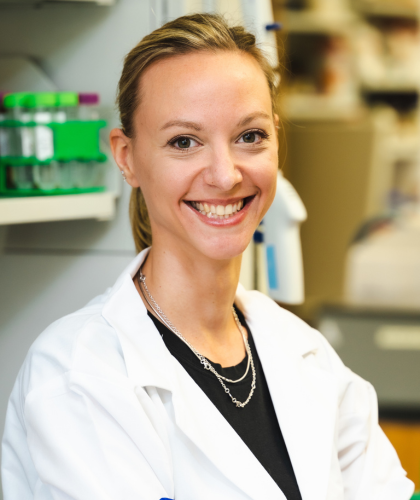 Molinari, Sara
Assistant Professor

Fischell Department of Bioengineering

3222 A. James Clark Hall

Dr. Sara Molinari is an Assistant Professor in the Fischell Department of Bioengineering at the University of Maryland College Park. She completed her doctoral studies in the Systems, Synthetic, and Physical Biology Ph.D. program at Rice University, where her research focused on programming cellular differentiation in bacteria. This groundbreaking work played a pivotal role in advancing the emerging field of engineered living materials, as it enabled the creation of innovative patterns by physically isolating genetically distinct cells. During her postdoctoral tenure, Dr. Molinari achieved a significant milestone by developing the world's first de novo macroscopic living material, which grows from engineered bacteria. This pioneering work introduced a genetically encoded synthetic matrix that can hierarchically assemble cells over several orders of magnitudes while allowing precise genetic control over the mechanical and catalytic properties of engineered living materials. Within her laboratory at the University of Maryland, Dr. Molinari continues to push the boundaries of research by crafting engineered living materials with customized biological and mechanical properties that are particularly transformative at the interface with complex environments, such as the human body. Dr. Molinari's is a full Sigma Xi scientific research honor society member, 2022 Distinguished Young Scholar Seminar (UWDYSS), 2022 BME UNITE Future Faculty, and SynBYSS Rising Star speaker.
The Molinari Lab focuses on engineering living materials from bacteria. Engineered living materials (ELMs)are composites of living cells embedded into a biopolymer matrix. Natural living materials inspire them but use synthetic biology to introduce non-natural properties. While cells confer functionality to ELMs, the matrix defines their mechanical and physical properties. By engineering both components, we can produce living materials with unique combinations of physical and biological functions that can deliver superior performances where traditional devices fail to adapt to complex spatiotemporal phenotypes. The presence of cells also enables ELMs to self-assemble and self-repair, ensuring economic production processes and longevity. We aim to engineer multifunctional ELMs for transformative applications in healthcare and agriculture.
BIOE689B Special Topics in Bioengineering; Engineered Living Materials
Molinari, S., Tesoriero Jr, R.F., Li, D., Sridhar, S., Cai, R., Soman, J., Ryan, K.R., Ashby, P.D. and Ajo-Franklin, C.M., 2022. A de novo matrix for macroscopic living materials from bacteria. Nature communications, 13(1), p.5544.
Molinari, S., Tesoriero Jr, R.F. and Ajo-Franklin, C.M., 2021. Bottom-up approaches to engineered living materials: Challenges and future directions. Matter, 4(10), pp.3095-3120.
Orozco-Hidalgo, M.T., Charrier, M., Tjahjono, N., Tesoriero Jr, R.F., Li, D., Molinari, S., Ryan, K.R., Ashby, P.D., Rad, B. and Ajo-Franklin, C.M., 2021. Engineering high-yield biopolymer secretion creates an extracellular protein matrix for living materials. Msystems, 6(2), pp.e00903-20.
Molinari, S., Shis, D.L., Bhakta, S.P., Chappell, J., Igoshin, O.A. and Bennett, M.R., 2019. A synthetic system for asymmetric cell division in Escherichia coli. Nature chemical biology, 15(9), pp.917-924.
At the sixth annual EPIC Retreat, BIOE announced the 2023 recipiencts of the Fischell Fellowship.
The Fishell Department of Bioengineering welcomes new Assistant Professor Sara Molinari as a faculty member this summer.