Bentley Elected ACS Fellow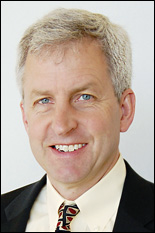 Fischell Department of Bioengineering professor and chair
William E. Bentley
(joint,
Institute for Bioscience and Biotechnology Research
) has been elected to fellowship in the American Chemical Society (ACS), the world's largest scientific society. The congressionally chartered organization, dedicated to "improving people's lives through the transforming power of chemistry," has more than 163,000 members, publishes 39 journals, and educates policy makers and the public about the importance and role of chemistry in our society.
Bentley, the Clark School's Robert E. Fischell Distinguished Professor, was cited for scientific and professional accomplishments including "the development of molecular approaches for enhanced protein expression in many hosts; creating tools for analysis and exploitation of quorum-sensing signal transduction systems; and biofabrication of the device/biological interface." He was also recognized for his contribution to the ACS in roles including technology, program and session chairs; serving on the CHEMTECH Advisory Board and the society's Executive Committee; and his participation in initiatives to expand membership.
Bentley is a founding co-PI of the University of Maryland's FDA-sponsored Center of Excellence in Regulatory Science and Innovation (CERSI), and is a member of the Maryland Biochip Collaborative. He received his undergraduate (B.S. '82) and Master of Engineering ('83) degrees from Cornell University and his Ph.D. ('89) from the University of Colorado, Boulder, all in chemical engineering. Since his arrival in College Park in 1989, his research has focused on the development of molecular tools that facilitate the expression of biologically active proteins. He is the author or co-author of over 200 archival publications.
Bentley is also an elected fellow of the American Academy of Microbiology, the American Association for the Advancement of Science, and the American Institute for Medical and Biological Engineering.
Learn More:
Visit Professor Bentley's web site
Published July 29, 2013