BIOE Senior Wins Clark School International Student Award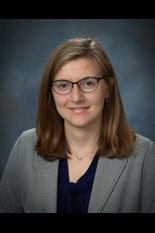 Annually, the A. James Clark School of Engineering recognizes undergraduate students for excellence in academics, leadership, and service.
This year, BIOE senior Lauren Moyer is the recipient of the International Student Award. This accolade is presented to a student who has demonstrated significant involvement in international engineering activities through leadership or service.
Moyer is expected to graduate with bachelor's degrees in Bioengineering and Germanic Studies this spring.
"I feel truly honored to receive this award and to be recognized for my commitment to the Engineering and German dual-degree program as well as my achievements during my engineering study abroad experience," says Moyer. "International engineering has become an integral part of my undergraduate experience."
She attributes an early interest in mathematics to her father, a math professor. "As I progressed through my high school courses, I soon found that calculus and physics were my favorite courses," Moyer explains. "Because of my strong interest in math and my passion for helping others, I chose bioengineering which combines these two parts of myself." She began learning the German language in eighth grade. Her hometown of Ephrata, PA has a heavy German influence, and coordinates a student exchange program with educators and families in Germany.
"It was during this student exchange in high school that my love of the German language and culture really grew," Moyer explains. "During this exchange, I was paired up with a host sister and her family, with whom I have grown very close and have visited often."
During her junior year, Lauren Moyer studied abroad at the Technical Institute in Munich, Germany. There, she took bioengineering courses taught in German and interned in a biotechnology research laboratory.
"I found it awesome that I could take electives with a unique focus including Enzyme Engineering, Biomimetics and Bio-inspired Material Design," Moyer says of her time in Munich. "These courses were offered through the Mechanical Engineering Department and more focused on the theory behind real-world applications. Additionally, I was able to gain international work experience in a biotechnology lab on a project that sought to genetically engineer chickens with the CRISPR-Cas9 system to be immune to Marek's disease."
Moyer is the first BIOE student to study abroad in Germany, and thanks the International Engineering and Bioengineering Advising staff for helping to coordinate her education and work abroad.
The BIOE senior is also an on-campus leader in the Flexus, ClarkLEAD, and Language House programs. She is a member of the Biomedical Engineering Society (BMES), the Omicron Delta Kappa National Leadership Honor Society, and the treasurer of both the UMD chapter of Alpha Eta Mu Beta (AEMB) Biomedical Engineering Honor Society and Lutheran Campus Ministry. She has also volunteered her time to several engineering outreach programs for young girls including the WIE DREAM conference, KEYs to Empowering Youth, and Engineering Playdate.
After graduation, Moyer will start her professional career as an Associate Medical Device Engineer at Eurofins.
"I plan to gain experience in the medical device industry so that in a few years, I can pursue a graduate degree in the area that most interests me," she says. "I am also looking forward to working at an international company like Eurofins, where I can apply my international engineering experience."
Published April 20, 2020