BioE Student Addresses Graduates, Guests at Winter Commencement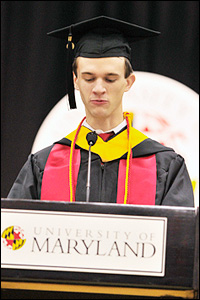 Motivation was on Fischell Department of Bioengineering (BioE) graduate David Peeler's mind as he stepped up to the podium to deliver the student address at the Clark School's Winter Commencement.
Peeler cited his grandfathers as the source of his motivation: His paternal grandfather disarmed mines while serving in the Navy in the Second World War. He later saved the lives of several of his crew while exploring Antarctica, in a place now named in his honor. His maternal grandfather, a pioneer in the field of stem cell research, discovered a cure for osteopetrosis, a genetic bone disease. Peeler said that these men "reminded [him] of how incredible [his] life could eventually be," and gave him confidence in his own ability to make a difference.
"Your experience at Maryland has undoubtedly shaped whoever you thought you were when you entered this campus," he said to the new graduates, "And while we're lucky that a portion of our identities are now certified on paper, we alone will ultimately decide who we are motivated to be in the future…I hope that today, all of you take time to consider the sources of your beautiful, potential-filled lives, because recognizing your motivation is just the first step."
Over the course of his undergraduate studies, Peeler participated in service activities, became an accomplished researcher, and co-authored two papers while maintaining a high level of academic achievement. In addition to a summer internship at the Johns Hopkins School of Medicine and two years as a member of BioE assistant professor Silvina Matysiak's Biomolecular Modeling Laboratory, he was a member of the Student Government Association and Engineers Without Borders, took an Alternative Spring Break, and participated in Terp Service Days. While serving as the president of the student chapter of the Biomedical Engineering Society (BMES), he established a mentorship program and co-organized the first Johns Hopkins University/University of Maryland Undergraduate Research Day.
His honors and awards include the university's Presidential Scholarship and Summer Scholars Award for Undergraduate Research, BioE's Outstanding Citizen Award, the Samuel J. Wendler Memorial Scholarship, and a BMES travel grant. He is currently an Oak Ridge Institute for Science and Education (ORISE) Research Fellow at the U.S. Food and Drug Administration's Division of Chemistry and Material Science.
Published January 8, 2014