BIOE Welcomes Five New Advisory Board Members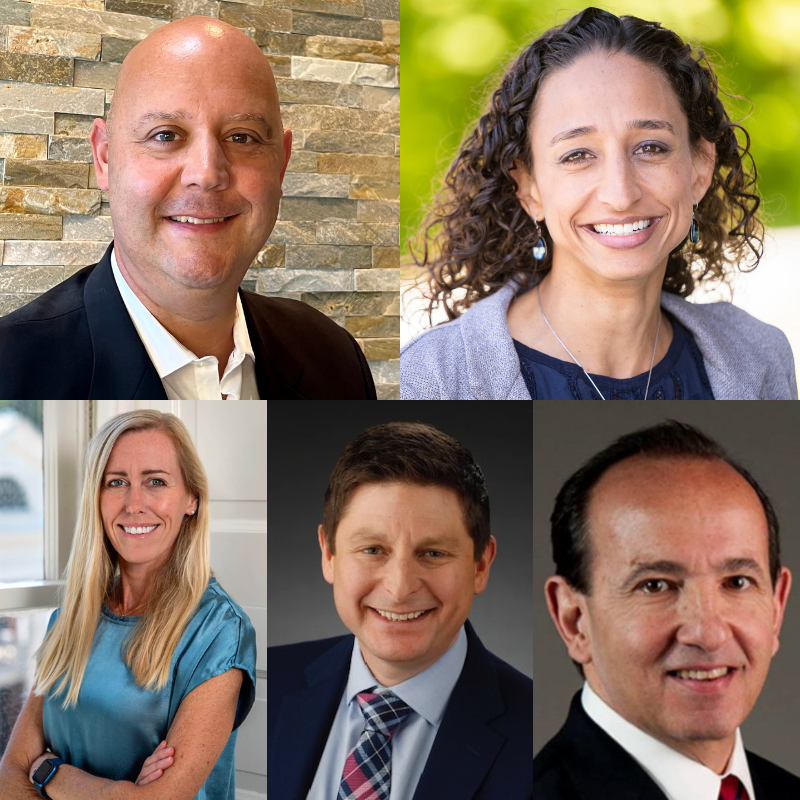 The Fischell Department of Bioengineering (BIOE) welcomes five new members to its distinguished Advisory Board this year. New members include Ed Carrese—who joined in Spring 2023—and Grace O'Connell, Shayn Pierce-Cottler, Ron Silverman, and Kevin Vigilante—who joined in Fall 2023.
Members of the Board serve the department in a volunteer, advisory capacity to help identify needs, plan for the future, and develop fundraising strategies. The Board has three subcommittees dedicated to these initiatives: the Development Committee; the Strategic Planning Committee; and the Student Engagement Committee.
"The Advisory Board plays an essential role in the department," says BIOE Chair John P. Fisher. "We rely on their input and expertise for important department decisions and projects, including curriculum changes, the 2019–2023 Strategic Plan, and the 2022 BIOE Giving Challenge. Our department is made better by the Board's steadfast commitment to the school and our students."
The Advisory Board meets twice a year with the department chair and select faculty and staff members. This fall, members will gather on Friday, November 3rd for their first meeting of the 2023–24 school year.
Ed Carrese is the Senior Director of Engineering and R&D Site Leader for BD Integrated Diagnostic Solutions located in Sparks, Maryland. Carrese has over 25 years of product development experience across various industries including Automotive (General Motors), Ink Jet (Xerox) and Medical Technology (Becton-Dickinson). Early in his career, Carrese developed and commercialized fluidic, mechatronic, and full diagnostic system platforms in both the consumer and healthcare spaces. Carrese has served in various R&D program and functional leadership roles over his nearly 20 years with BD, overseeing large multi-discipline teams developing integrated diagnostic solutions that address critical patient and clinician needs from the point-of-care setting to large-scale regional hospitals and reference laboratories. Throughout his leadership tenure at BD, Carrese has built a passion for technology sensing, innovation, and talent development. Carrese holds a B.S. in mechanical/aerospace engineering from R.I.T. and an MBA in strategy from the University of Rochester.

Grace O'Connell, Ph.D. is Professor in the Department of Mechanical Engineering at the University of California, Berkeley. She is Co-Director of the Berkeley Biomechanics Laboratory, and her research interests are in soft tissue mechanobiology and tissue engineering. O'Connell received her B.S. in Aerospace Engineering from the University of Maryland and her Ph.D. in Bioengineering from the University of Pennsylvania. O'Connell's research group employs computational modeling and experimental approaches to study the effect of aging and disease on tendons, ligaments, cartilage and the intervertebral disc. She has received many awards including the 2019 YC Fung Young Investigator Award and NSF CAREER Award, and was inducted into the AIMBE College of Fellows in 2021.
Shayn Peirce-Cottler, Ph.D. is Harrison Distinguished Teaching Professor and Chair of Biomedical Engineering, with secondary appointments in the Department of Ophthalmology and Department of Plastic Surgery at the University of Virginia (UVA). She received B.S. degrees in biomedical engineering and engineering mechanics from Johns Hopkins University in 1997, and she earned her Ph.D. from the Department of Biomedical Engineering at the University of Virginia in 2002. Peirce-Cottler develops computational models and combines them with wet lab experiments to study how tissues heal after injury and to develop therapies for inducing tissue regeneration. Her lab is particularly focused on studying and engineering the body's smallest blood vessels that are necessary for delivering oxygen and nutrients to every cell in the body. She teaches courses in cell and molecular physiology and computational systems bioengineering to undergraduate and graduate students. Peirce-Cottler has published over 125 peer reviewed papers and book chapters, and she is an inventor on three U.S. Patents. She is a fellow in both the American Institute for Medical and Biological Engineering College of Fellows (AIMBE) and the Biomedical Engineering Society (BMES). She is also Past-President of The Microcirculatory Society. Peirce-Cottler is a UVA School of Medicine Pinn Scholar, and in 2020 she was awarded the UVA School of Medicine's Robert H. Kader Award for Excellence in Graduate Teaching and Mentoring. She is passionate about mentoring students and faculty, promoting diversity in STEM, and participating in K-12 outreach to increase students' interest and self-confidence in pursuing STEM careers.
Ronald Silverman, Ph.D. is Senior Vice President and Chief Medical Officer for 3M HealthCare. Prior to his career in the medical device industry, Silverman was Chief of Plastic and Reconstructive Surgery at the University of Maryland Medical Center and continues his surgical practice there today part time. Silverman holds academic appointments as a Clinical Associate Professor of Surgery at the University of Maryland School of Medicine as well as an Adjunct Associate Professor of Plastic Surgery at the Johns Hopkins School of Medicine. Silverman completed his surgical residency training in surgery/plastic surgery at the Harvard/Massachusetts General Hospital Plastic Surgery Program and is a proud graduate of the University of Maryland School of Medicine as well as the University of Maryland, College Park. Go Terps!
Kevin Vigilante, Ph.D. is Chief Medical Officer and Executive Vice President at Booz Allen Hamilton. He advises senior government healthcare clients at the Dept. of Veterans Affairs, the Military Health System, and the Dept. of Health and Human Services. Kevin is a former member of the National Committee for Vital and Health Statistics and a former National Kellogg fellow. His work is published in academic journals such as the New England Journal of Medicine and top-tier media outlets including the New York Times on a broad range of topics. Prior to joining Booz Allen, Kevin spent about 20 years in academic medicine holding appointments on the medical faculty at Yale and Brown Universities and at their affiliated VA Medical Centers. He has a B.A. in philosophy from Johns Hopkins University, an M.D. from the Cornell University Medical College, and a M.P.H. from the Harvard School of Public Health. He did his residency in internal medicine at Yale New Haven Hospital. Kevin is also the founder and a board member of RISE, an organization that provides mentorship and educational opportunity to children of incarcerated parents.
Published November 1, 2023