Bioengineering Professors Recognized as Research Leaders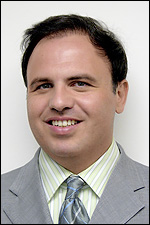 Professor Peter Kofinas, director of the Graduate Program in Bioengineering, and Associate Professor Sergei Sukharev (Biology), a participating faculty member in the graduate program, were among 233 university faculty recognized for their efforts in bringing sponsored research dollars to campus.
Kofinas' grant earnings fund graduate and undergraduate students, as well as supplies and equipment for the Functional Macromolecular Laboratory. His projects are supported by the Air Force Office of Scientific Research, the intelligence community, the National Science Foundation (NSF), the Office of Naval Research, and the United States Department of Agriculture (USDA).
Sukharev's research focuses on molecular mechanisms of mechanosensitive ion channels. His grants from the NIH currently support the study of protein-lipid interactions that mediate the transmission of tension, hydration of channel pores, and the computational modeling and analysis of the main functional states of bacterial tension-activated channels known as MscS and MscL.
Learn more about Professor Kofinas' current research »
Visit the Functional Macromolecular Laboratory web site »
Learn more about Professor Sukharev's current research »

Published November 20, 2006