CERSI Co-Director Bentley to Present at 2nd AIMBE Workshop Sept. 18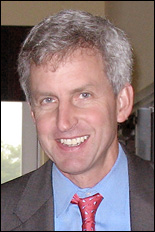 Dr. William Bentley, co-director of the University of Maryland's FDA-supported Center for Excellence in Regulatory Science and Innovation (CERSI) and Chair of the Fischell Department of Bioengineering, will present at the Second American Institute for Medical and Biological Engineering (AIMBE) Workshop on Validation and Qualification of New In Vitro Tools and Models for The Pre-clinical Drug Discovery Process. The workshop will be held on September 17-18, 2012 at Lister Hill Auditorium, located at the National Institutes of Health (NIH), Bethesda, Md.
The overall goal of this series of workshops is to develop guidelines for investigators developing new tools for the pre-clinical drug development process on how to validate these new technologies so that they become useful, meaningful tools.
Dr. Bentley's presentation is scheduled for the afternoon of Sept. 18, and will focus on a "Discussion of Shuler's Body-on-a-Chip System."
Dr. Bentley serves on the AIMBE Board of Directors as Vice President at Large.
More information about the AIMBE Workshop
Published September 17, 2012