Chumakov, Kyrtsos Selected for Future Faculty Program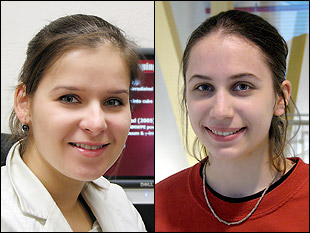 Please join us in extending our congratulations to graduate students Marina Chumakov (advised by Department of Materials Science and Engineering Professor
Mohamad Al-Sheikhly
), and Christina Kyrtsos (advised by BioE Assistant Professor
Sameer Shah
), who were among only 20 students from throughout the Clark School chosen to participate in this year's Future Faculty Program. They will be part of the program's second cohort of students.
The Future Faculty Program (FFP), launched in 2007, was created to prepare students for academic careers in top-50 engineering schools by helping them hone their skills in areas such as technical and grant writing, curriculum development, teaching, research, oral presentations, and interviewing. The program includes seminars, a teaching practicum, and a research mentoring practicum, and takes 3-5 semesters to complete. Participants are known as Future Faculty Fellows, and receive a supplementary stipend of up to $10,000 over the course of the program. One half of the funds are reserved for travel to attend professional conferences.
Chumakov has been researching the use of Ultra High Molecular Weight Polyethylene (UHMWPE) in total joint replacement systems; specifically, a new manufacturing approach that may make the implants last longer. She presented her recent findings at a conference in Spain in September 2007.
"I decided to apply to the Future Faculty Program because I wanted to keep all the doors open in my career," she explains. "I wanted to not only learn more about a career in academia but to acquire and improve essential skills that will benefit me in any job I pursue. I am beginning to recognize that I really enjoy teaching and interacting with students, and the program will give me the opportunity to improve my teaching style. I want to be a professor not only because of the teaching, but also because I will be able to pursue the research topics that I find most interesting."
Kyrtsos is searching for the reasons behind Alzheimer's disease by designing a mathematical model that predicts its development in neurons and the blood-brain barrier. "Christina is undertaking an exciting line of research dealing with the brain's ability to degrade and dispose of toxic proteins," says her advisor, Associate Professor Sameer Shah. "Her background in microfluidics and mathematics enables her to approach this research with innovative experimentation as well as theoretical modeling."
For More Information
Related Stories:
Bradberry, Gifford, and Janiak Selected for Future Faculty Program
Chumakov Presents at UHMWPE Conference
Published February 1, 2008