Duncan Earns Powe Award for Early Career Research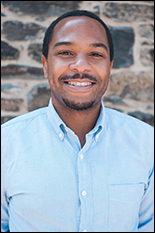 Fischell Department of Bioengineering Assistant Professor Gregg Duncan was recently awarded the prestigious Ralph E. Powe Junior Faculty Enhancement Award by Oak Ridge Associated Universities (ORAU). Duncan was recognized for his efforts to optimize viral gene therapies that could one day be used to treat a variety of diseases such as Huntington's disease, retinal dystrophy, and cancer.
In gene therapy, bioengineers use what are known as viral vectors to deliver genetic material into cells. Recently, gene therapy using adeno-associated virus (AAV) vectors has emerged as a leading viral gene delivery system because of AAV's ability to infect many types of cells and tissues. Additionally, AAV has a strong safety profile compared to other clinically tested viruses.
"With the growing usage of AAV for gene therapy, it is important to understand how AAV – once administered – distributes through the body, as this will impact its effectiveness and long-term safety," Duncan said.
With this in mind, Duncan and members of his Nanoscale Interfacial Biology and Engineering Laboratory are working to develop a hybrid AAV nanoparticle system for imaging in vivo with high contrast, near infrared-emitting nanoparticles placed inside the virus core. This will allow for direct assessment of AAV biodistribution in vivo, offering a novel tool in the evaluation and testing of AAV-based gene therapy approaches.
This year's Powe Award recipients – each of whom is in the first two years of a tenure track position – will receive $5,000 in seed money for the 2018-2019 academic year to enhance their research during the early stages of their careers. Each recipient's institution matches the ORAU award with an additional $5,000, making the total prize worth $10,000 for each winner. Winners may use the grants to purchase equipment, continue research or travel to professional meetings and conferences.
Since the program's inception, ORAU has awarded 698 grants totaling more than $3.4 million. Including the matching funds from member institutions, ORAU has facilitated grants worth more than $6.9 million.
"The Powe Awards program is very popular and beneficial to our member universities because it provides an opportunity for young faculty members to further their research careers and helps them identify potential funding avenues," said Arlene Garrison, ORAU Vice President, University Partnerships Office. "ORAU is proud to recognize the research and professional growth of these emerging leaders as they support the future of science and technology."
The awards recognize faculty members for their work in any of five science and technology disciplines: engineering or applied science; life sciences; mathematics and computer science; physical sciences; and policy, management or education.
The awards, now in their 28th year, are named for Ralph E. Powe, who served as the ORAU councilor from Mississippi State University for 16 years. Powe participated in numerous committees and special projects during his tenure and was elected chair of ORAU's Council of Sponsoring Institutions. He died in 1996.
Additional information about the ORAU Ralph E. Powe Junior Faculty Enhancement Award and this year's recipients is available online.
Published July 11, 2018