Engineers' Work Could Leave Golfers Smiling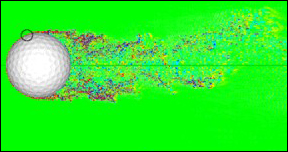 Bioengineering associate professor Elias Balaras and his graduate student Nikolaos Beratlis, along with researchers at the University of Arizona, are using supercomputing power to study the aerodynamics of golf balls, specifically golf ball dimples, according to the American Institute of Physics.
Their results were reported at the 61st Meeting of the American Physical Society's Division of Fluid Dynamics last month.
The team modeled the movement of a golf ball through the air with the highest level of detail ever. This could allow for better design of golf ball dimples, which contribute to the balls' aerodynamics.
Balaras and Beratlis created software for processing equations for the project on parallel supercomputers. This allowed the researchers to perform computations much faster than would have been possible on regular computers.
The researchers' work has received wide coverage in the media, including in the New York Times, among other publications.
Published December 3, 2008