Fischell Institute's Mask Work Highlighted on WBAL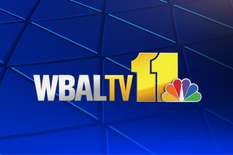 The Robert E. Fischell Institute for Biomedical Devices was highlighted on WBAL 11 TV Hill on Sunday, April 3 in a segment titled "Two years later in the COVID-19 pandemic, looking ahead."
Reporter Jason Newton spoke with Fischell Institute director and Fischell Department of Bioengineering professor William E. Bentley and engineer Kevin Aroom about the Fischell Institute's ongoing efforts to design and test innovative face masks and respirators for protection against COVID-19 and other health hazards.
The segment highlighted how Fischell Institute researchers are also working on the creation of clear and conformal masks that can be customized to fit one's face.
Using ATI's 100X Automated Filter Tester, Aroom and the team are able to test the filtration ofN95-caliber masks by exposing them to an airflow containing tiny aerosolized salt particles. In this way, the Fischell Institute uses a special laser detector that counts how many salt particles get through from one side of the mask to the other. In the interview, Aroom explained that at least 95 percent of the salt particles need to be captured or blocked by the face masks in order for them to meet N95 standards.
"A lot of the testing we do is just with the filter itself. The fit of the mask is another side of that coin that is important, '' he said. "You could have the best filter in the world and if it doesn't fit on your face well, it's going to be just as bad as a bandana or a cloth-style face mask."
Bentley and Aroom noted that work in this area remains critical. Moving forward, the Fischell Institute will continue to work with industry and clinical partners to advance understanding of how different masks can safeguard both adult and pediatric wearers from COVID-19 and other health risks.
Published April 5, 2022