Fischell Invention Profiled by FOX News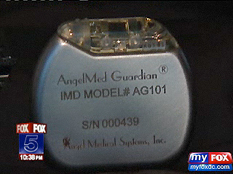 An implantable medical device capable of predicting heart attacks, created by Fischell Department of Bioengineering namesake and benefactor Dr. Robert E. Fischell (M.S. '53, physics), was recently profiled by Washington, D.C. FOX 5 TV reporter Wisdom Martin.
In the segment, Fischell explained how his device, the AngelMed Guardian, analyzes a patient's electrocardiogram (ECG, EKG), a record of the heart's electrical activity, comparing it to previous weeks and months of stored data, searching for changes and abnormalities. The sensor informs both the patient and medical personnel via wireless connections (for example, a pager or call to a cell phone) if a heart attack is imminent. Fischell believes the device has the potential to save thousands of at-risk patients by either preventing heart attacks or getting them immediate medical attention, compared to the current average of four and a half hours.
Martin's segment also featured Donald Beltz, who received an AngelMed Guardian implant in January 2008. Beltz recounted how, only a month later, the device sent him an emergency page. After being rushed to the hospital, routine tests did not indicate a problem, but the data received from the AngelMed Guardian told a very different story. Surgery revealed that one of Beltz's arteries was almost completely blocked. Doctors informed him he had been perhaps an hour away from a "major heart attack".
Beltz believes he is alive today because of his implant.
Beltz is one of 37 patients North and South America currently testing the AngelMed Guardian. So far, the device has been credited with saving the lives of at least 4 of them since 2006. It is expected to be on the market in about two years, pending FDA approval.
Watch Wisdom Martin's FOX 5 segment online »
Published November 6, 2008