Gifford Accepts Sr. Nuclear Engineer Post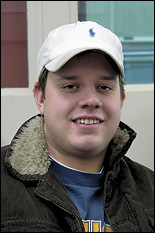 Fischell Department of Bioengineering graduate student Ian Gifford, advised by Department of Materials Science and Engineering Professor Mohamad Al-Sheikhly, has recently accepted a job offer from the Uniformed Services University of Health Sciences (USUHS) as a senior nuclear engineer at the Armed Forces Radiobiology Research Institute (AFRRI) at the National Navy Medical Center in Bethesda, Md.
Gifford will serve as both a senior reactor operator for the AFRRI's 1 MW TRIGA nuclear reactor and as a research investigator in the Radiation Sciences Department. The position builds on his experience on campus as a senior reactor operator for the 250 kW TRIGA University of Maryland Training Reactor. His dual role at AFRRI will allow him to continue pursuing his graduate research in mixed-field radiation of biological systems while serving the AFRRI mission to preserve the health and performance of U.S. military personnel, and to protect humankind through research that advances our understanding of the effects of ionizing radiation.
While at Maryland, Gifford's research focused on adapting boron-neutron capture therapy for the treatment of prostate cancer. The first half of his research concentrated on encapsulating therapeutics in a package the prostate cancer cells–but not healthy ones–would find tempting to absorb. The second half involved the use of finely focused irradiation to cause the drug molecules to "explode" once inside the cancerous cells, killing them. The overall result would be a more accurate style of treatment requiring less radiation therapy and with fewer side effects.
Gifford was also part of the team that retrofitted the university's nuclear training and research reactor for work in nuclear medicine, and took the lead in establishing the new Biophysical and Polymer Radiation Laboratory.
Gifford is currently completing his research studies and expects to receive his doctorate in May 2009. He looks forward to maintaining a close collaboration with Al-Sheikhly and other professors at the University of Maryland.
Learn More About Ian Gifford's Research:
Graduate Student Profile: Ian Gifford: Using Nuclear Medicine to Combat Prostate Cancer »
Published April 23, 2009