Invention of the Year Finalist: Intra-Lymph Node Cancer Vaccination Delivery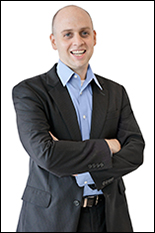 Researchers at the University of Maryland have developed a new, potent and selective vaccine delivery technique targeting cancer and autoimmune diseases.
The technology can dramatically increase the efficiency and specificity of therapeutic vaccines by efficiently targeting the lymph node. The invention could also help patients diagnosed with cancer and autoimmune diseases like multiple sclerosis, type I diabetes and rheumatoid arthritis benefit from improved treatment and better quality of life.
The method—intra-lymph node delivery of biomaterial depots for therapeutic vaccines—was developed by UMD Fischell Department of Bioengineering Assistant Professor Christopher Jewell along with MIT Professor of Materials Science and Engineering and Biomedical Engineering Darrell Irvine, and Fischell Department Ph.D. candidates James Andorko and Lisa Tostanoski. This new innovation is one of nine nominees for Invention of the Year Award.
Jewell says that the invention works by combining local lymph node delivery and controlling the release of immune signals so that they can locally program immune processes occurring inside lymph nodes.
"These tissues initiate and control immune response, so 'programming' these functions allows generation of the right types of immune cells that can then migrate to the body to combat infection, clear tumors, or suppress unwanted inflammatory reactions," he said.
Jewell explained that traditional vaccination methods like intra-muscular injections have poor or inefficient drainage into lymph nodes and his invention overcomes these problems.
The new method is delivered to target tissues so that the doses are one million times lower than existing doses, thus reducing side effects.
Previous treatments have faced plenty of challenges, such as when immunosuppression was given to patients but did not reverse disease and left patients in an immune-compromised state.
"In cancer, the delivery of therapeutics aimed to eliminate cancerous cells can be non-specific and harm healthy tissue in the process," Jewell said.
The technology has great appeal for researchers who are investigating new vaccines and immunotherapies, and also offers much promise for investment and business development.
"These two segments [researchers interested in this invention and the scope for business development] represent more than $150B/year, and several biotechnology and pharmaceutical companies have already shown interest in the invention and research," Jewell says.
Jewell says that the OTC was a great resource and partner in his work and connected him with regulatory and legal experts, sharing results and partnership opportunities and supporting business development.
Jewell's lab is now working on further research based on the technology to develop new materials that could be used to carry vaccines and immunotherapy. This project is being funded by a five-year CAREER Award from the National Science Foundation.
Winners of this year's Invention of the Year Awards will be announced April 29. For more information, visit research.umd.edu or techtransfer.umd.edu.
Published April 1, 2015