Merrill Presidential Scholars Honored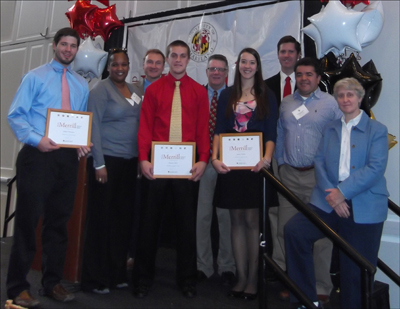 Three Clark School undergraduate students and their mentors have been recognized by the Philip Merrill Presidential Scholars Program. The honorees are:
Matthew Rich (aerospace engineering), Clark School professor Mary Bowden (who has been honored by this program before) and Rich's math teacher at Mt. Hebron High School, Thomas Sankey.
From the Merrill Scholars Program: In interactions with Matt, he often speaks with the staff about how he was inspired by his high school calculus teacher, Mr. Sankey and has considered becoming a high school math teacher. He is already well on his way since he has volunteered as a math mentor for America Reads America Counts and has served as a teaching assistant. Matt has maintained a stellar GPA and has been involved in many activities and organizations, including the Clark School Ambassadors Program and the American Institute of Aeronautics and Astronautics. He has completed summer internships at the Johns Hopkins University Applied Physics Laboratory and conducts research for his Aerospace Engineering Honors Research Project at the UMD Rotorcraft Center. Matt is also an aviation enthusiast and earned his Private Pilot license at the Baltimore-Washington International Airport.
Joshua Thompson (bioengineering), Clark School professor John Fisher and Lakeisha O'Keiffe, his chemistry teacher at Loyola High School.
From the Merrill Scholars Program: Josh was chosen for his excellence in scholarship in bioengineering, achievement in research in stem cells, biomaterials, and tissue engineering, and commitment to volunteering in the health sciences, such as hospital both local and internationally. He is also a Teaching Assistant for the Department of Chemistry, a Maryland Images Campus Tour Guide, an Eagle Scout, an ASPIRE recipient and has received their outstanding student researcher award, as well as has published and presented for professional societies.
Janina Vaitkus (bioengineering), Clark School professor Helim Aranda-Espinoza and Ryan Sackett, an assistant principal at South River High School.
From the Merrill Scholars Program: Janina was chosen for her excellence in academics in bioengineering and honors curricula, leadership in research on neuronal cell structure and function, volunteerism (particularly in clinical arenas needing bilingual assistance), commitment to teaching, and leadership in club athletics. She is an undergraduate researcher and teaching fellow in Bioengineering, volunteers at Shanahan Children's Clinic and worked in a local emergency department, was a member of the campus' SGA, and plays on the school's club lacrosse team where she was a co-captain for the past two years. She will be studying abroad in Guatemala while running sports clinics for the children in the area, and after graduation, she will be entering medical school to earn dual MD/PhD degrees and pursue her goal of becoming a physician-scientist.
The Philip Merrill Presidential Scholars Program honors the most successful rising seniors from each of the university's schools and colleges, as well as their mentors from both the university faculty and their precollege education. The scholars' mentors participate in a workshop designed to strengthen relationships between the university and K-12 schools. To continue the legacy of academic excellence and mentoring, scholarships are awarded in the precollege teachers' names to new first year UMD students from their respective high schools or school districts.
For More Information:
Visit the Philip Merrill Presidential Scholars Program web site »
Published November 2, 2012