MIPS company Avidea Technologies acquired by Vaccitech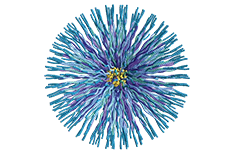 Baltimore-based Avidea Technologies, a current Maryland Industrial Partnerships (MIPS) project award winner, was acquired by Vaccitech.
Avidea is developing the next generation of safer and more effective T-cell immunotherapies for treating cancer, infections, and autoimmune diseases. The acquisition of Avidea strengthens Vaccitech's position as a leader in immunotherapies and vaccines, according to the company's official press release.
Avidea's MIPS project, still in progress, partners Christopher Jewell, MPower Professor and Minta Martin Professor of Engineering in the Fischell Department of Bioengineering, with the company for research on the treatment of autoimmunity with nanomaterials.
"During autoimmune diseases—such as multiple sclerosis and type 1 diabetes—the immune system malfunctions and attacks," Jewell explained. "There are no cures for these terrible diseases, and the existing treatments are not specific, often leading to serious side effects. We have been collaborating with Avidea to test the company's SNAPvaxplatform to see if this technology can selectively stop autoimmune reactions without impacting normal immune response."
"MIPS has played a key role in our growth as it helped us acquire proof-of-concept data to get our tolerance program off the ground," said Andrew Ishizuka, Chief Scientific Officer for Avidea, now Senior Vice President of Translational Research at Vaccitech. "The acquisition of Avidea will fuel the local scientific industry in Maryland, since Vaccitech, which is based in the United Kingdom, plans to expand its U.S. operations in the area."
Jewell's and Avidea's MIPS project continues until early next year, and there is a mutual desire to continue the collaboration thereafter.
Published January 6, 2022