Payne Honored with Guest Professorship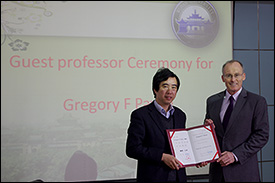 Fischell Department of Bioengineering (BioE) professor Gregory Payne (joint, Institute for Bioscience and Biotechnology Research) has received a Guest Professorship at Wuhan University, one of China's top ten educational institutions. The three-year appointment is with Wuhan's School of Resource and Environmental Science.
Founded in 1893, Wuhan University is the country's third most important center of education and research. The school maintains partnerships and collaborations with over 350 schools around the world. Over 50,000 students attend classes on its campus, located in the largest city in central China.
Payne is engaged in an ongoing collaboration with Wuhan University School of Resource and Environmental Science professor Xiao-Wen Shi. Prior to joining Wuhan's faculty, Shi spent 10 years working with Payne, BioE professor and chair William E. Bentley, and BioE affiliate professors Reza Ghodssi (director, Institute for Systems Research) and Gary Rubloff (director, Maryland NanoCenter) at the University of Maryland. Their partnership, the Biochip Collaborative, resulted in UMD's emergence as a world leader in the use of biofabrication–nanoscale construction using materials and mechanisms from biology–to create interfaces between biological and electronic components.
At Wuhan, Payne and Shi are continuing their work with chitosan, a renewable, biodegradable, and a stimuli-responsive bipolymer derived from crabs and shrimp that responds to imposed electrical signals.
Payne was officially honored with the appointment at a ceremony held on March 7. Wuhan Committee Chair Xiao-Rong Chen and Vice President Qing-Yun Du presided over the event, at which they recognized Payne's research accomplishments in creating high performance materials from renewable natural resources. Du says he hopes the new relationship will continue to strengthen the ties and scientific collaborations between Wuhan University and the University of Maryland.
Published March 29, 2013