Sijie Hao Promoted to Senior Faculty Specialist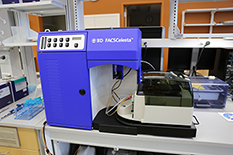 The Fischell Department of Bioengineering announced the promotion of Dr. Sijie Hao to senior faculty specialist.
Hao manages the BioWorkshop core facility hosted by the Fischell Department of Bioengineering (BIOE) that provides a wide array of cutting-edge scientific instruments to University of Maryland researchers and the surrounding scientific community.
"Dr. Hao's ability to bring expertise across the diverse range of instruments offered in the BioWorkshop is really remarkable. He has been instrumental in the fantastic launch of the department's new core facility," says Dr. Chris Jewell, BIOE Associate Professor and Associate Chair, and BioWorkshop director.
Prior to joining UMD, Dr. Hao worked as an associate scientist in Icahn School of Medicine at Mount Sinai. Much of his expertise lies in instrumentation, optical imaging, and quantitative imaging data analysis.
Hao holds a B.S. in biology from Fudan University (Shanghai, China), an M.S. in biochemistry, microbiology, and molecular biology, and a Ph.D. in biomedical engineering from Penn State. Hao's research specialization revolves around microfabrication and microfluidics, spectroscopy and scientific imaging.
The BioWorkshop is home to nearly two dozen instruments for imaging, cellular and biochemical analysis, biomaterial characterization, and histology. Imaging instruments include a FLIM&FCS-capable laser scanning confocal microscope (LSCM), a fully-automated wide-field fluorescence microscope, an atomic force microscope for biological sample (BioAFM), a benchtop scanning and transmission electron microscope (SEM&TEM) and a microCT for fixed and live imaging. Cellular and biochemical analysis tools include an imaging flow cytometer, a flow cytometer analyzer, and Biacore surface plasmon resonance scanner (SPR). Biomaterial characterization tools include a rheometer, a dynamic mechanical analyzer, a particle sizer and zeta-potential analyzer (DLS), and a circular dichroism spectrometer.
Published July 10, 2019