Students Impress At Capstone I Wrap-Up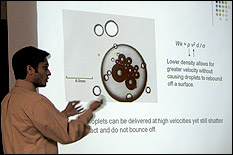 It may have been a study day at the University of Maryland, but it was showtime for approximately three dozen Biological Resources Engineering seniors enrolled in the first semester of their Capstone Design experience. The two-part course, taken in the fall and spring semesters, is one of the most important parts of the Clark School's engineering program. In it, teams of students utilize what they have learned throughout their undergraduate studies to create their own engineering designs from concept to product. This semester, students, faculty and staff saw the presentation of eight designs covering a diverse range of ideas for biological and medical devices.
In Capstone I, lead this semester by Professor Yang Tao, coming up with an idea for a product is only the beginning. Teams must justify its need, prepare a budget, and research issues such as feasibility, target audience(s), materials, potential pitfalls, environmental impact, and already existing products or patents on a similar theme. Each team has a faculty mentor, and may also consult with and seek financial and other support from outside companies. Once their ideas are approved, a group of faculty serving as the "Board of Directors" provides funding through the Fischell Department of Bioengineering, allowing the teams to produce working prototypes of their designs in Capstone II the following semester.
Faculty mentors supporting the teams throughout the Capstone experience this year include Professors Elias Balaras, Keith Herold, Adam Hsieh, Hubert Montas, Adel Shirmohammadi, and Yang Tao. During the production process in the spring semester, students will also have the support of machinery and fabrication shop manager Gary Siebel, and technician Ali Jamshidi.
The students' product ideas were both ambitious and realistic, and were all imagined with the ultimate goal of implementation in industry, medicine, or improving the quality of life for people in need. Designs included:
a new, wireless means of monitoring heart patients' EKGs, providing better data collection and an early warning system if problems are detected;
a device to reduce risks to patients during dialysis by analyzing blood in real-time;
a portable, efficient, and inexpensive way to sterilize bacterial mediums used in a wide variety of research;
a safer way to remove casts;
an easy-to-use, hygienic, and inexpensive food and crop storage container for subsistence farmers in third-world countries;
a device to manage and monitor dosing for people taking a large number of medications;
an automated device that provides both back support and pain therapy; and
a portable container that simultaneously heats and cools food, allowing for safer transportation and reducing the risk of food-borne illnesses.
A Q&A session followed each presentation, giving everyone in attendance the opportunity to comment, make suggestions, and ask sometimes tough questions. Professor Tao wrapped up the event by praising the Capstone students for their hard work, growth, and maturing engineering skills.
For now, we're left with a cliffhanger: How will the prototypes turn out? Could you or someone you know be using one of these products in the not-too-distant future? We'll be back at the Capstone presentations in May to find out!
Published December 18, 2006