Students Visit Walter Reed Prosthetics Lab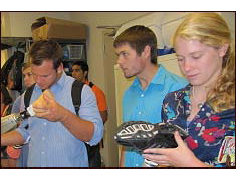 Fifteen students in the UM Science, Technology and Society (STS) Program and related programs visited Walter Reed Army Medical Center last week to learn about prosthetics and rehabilitation procedures for injured soldiers.
The STS program includes undergraduates majoring in bioengineering, civil engineering, computer engineering, mechanical engineering, kinesiology, biological sciences, history, business, and letters and sciences. Prof. Yang Tao from the Fischell Department of Bioengineering accompanied the group.
The group toured the prosthetics and orthotics fabrication laboratories at Walter Reed and the Military Advanced Training Center, a state-of-the-art rehabilitation center.
The University Certificate Program in Science, Technology and Society organized this field trip around its Fall 2010 theme, "the human body and technology."
The STS University Certificate is a degree program open to any undergraduate student. For those interested in the interactions of science and society or of technology and society, its seven courses (3 CORE and 4 upper electives) enable a student to impose coherence on electives. The program offers field trips each semester, including an upcoming trip on Nov. 3, to the Army Research Laboratory. More information is available on the program's web site. Program director Betsey Mendelsohn can be reached via email at bmendel@umd.edu.
The STS University Certificate Program is administered by the A. James Clark School of Engineering.
Published October 4, 2010