Sukharev Joins Graduate Program Faculty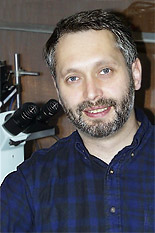 The Graduate Program in Bioengineering is pleased to announce that Associate Professor Sergei Sukharev (Biology) will become a participating faculty member.
Sukharev teaches Mammalian Physiology (BSCI 440/441) at the undergraduate level, and Molecular Physiology of Ion Channels, Receptors and Transporters (BIOL 608R seminar) at the graduate level. In the Spring 2007 semester he and Professor Marco Colombini (Biology) will offer a new course titled Cell Biology from a Biophysical Perspective, which has been designed for physicists, chemists and engineers interested in biophysics.
Sukharev investigates how cells detect mechanical force and pressure in order to adapt to changes in their environment, or to facilitate functions such as hearing and balance. He studies ion channels—natural nano-valves that conduct ions across plasma membranes—which are thought to convert mechanical stimuli into electrical or chemical signals received by cells.
Sukharev's interdisciplinary projects involve both experimental approaches and molecular modeling and simulation. According to his website, he utilizes a wide variety of activities and techniques, including "molecular modeling and simulations, genetic modifications of the ion channel genes, disulfide cross-linking, biochemical purification of proteins and reconstitution into phospholipid membranes, single-channel recording and video imaging of patch-clamped membranes, and kinetic and thermodynamic analysis of the channel behavior."
Students and faculty interested in his course offerings, publications, and research may visit his personal and lab websites for more information:
Published August 3, 2006