UM Will Host NanoBio Defense Workshop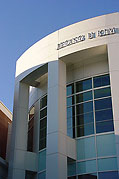 The Intelligence Advanced Research Projects Activity (IARPA), together with the University of Maryland (UMD) and the Naval Research Lab (NRL), have announced a two-day workshop exploring Nanobiotechnology for Defense Applications on Nov. 13-14, 2007 at the University of Maryland's Jeong H. Kim Engineering Building Kay Boardrooms.
This interdisciplinary workshop will bring together individuals from academia, government and industry to discuss the latest developments in nanobiotechnolgy. The workshop will feature plenary presentations from esteemed scientists on a broad range of topics including smart materials, autonomous systems, sensors/actuators, bioinspired energy and bio-device interface. The first day of the workshop will feature a keynote luncheon on nanomedicine, as well as poster presentations and reception.
Participating institutions include UMD, NRL, IARPA, Telemedicine and Advanced Technology Research Center (TATRC), Naval Medical Research Center (NMRC), Department of Defense (DoD) and the intelligence community.
The workshop is free to attend, but space is limited so early registration is recommended. The deadline for registration is October 31, 2007.
Workshop organizers are now accepting abstract submissions for scientific posters. Attendees may click this link to submit poster information for the workshop. Posters may only be submitted by registered conference delegates. Posters/abstracts are subject to approval by IARPA, UMD and NRL. Poster abstracts must be submitted by October 31, 2007.
For more information, visit:
http://www.nanocenter.umd.edu/nanobiotechnology_conference/2007/.
Published October 10, 2007