UMD Advances to #8 in Public Bioengineering and Biomedical Engineering Undergraduate Programs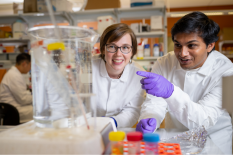 The Fischell Department of Bioengineering (BIOE) undergraduate program continues to rise in national rankings according to the U.S. News & World Report (USNWR).
On September 18, USNWR announced in the 2023-24 Best Colleges rankings that BIOE ranks 8th nationwide among public university bioengineering and biomedical engineering undergraduate programs, advancing BIOE one place from last year's undergraduate rankings. BIOE also advanced to 21st place overall, rising 3 rankings from the previous year. These new placements show a multi-year trend of the department climbing in undergraduate rankings.
"Since founding in 2006, the Fischell Department of Bioengineering has continually strived to provide an inclusive, supportive, interdisciplinary, and hands-on learning experience," says BIOE Fischell Family Distinguished Professor, MPower Professor, and Department Chair John P. Fisher. "Our latest rankings reflect the dedication, efforts, and excellence of our BIOE faculty, staff, and students. We are proud of our undergraduate program, thrilled for it to be recognized nationally, and look forward to its continued growth in the years to come."
Housed in the University of Maryland's A. James Clark School of Engineering, which ranks 19th overall among undergraduate engineering schools, the BIOE undergraduate program is designed to empower bioengineers with the knowledge, skills, and resources needed to address the world's most pressing human health challenges. With over 450 undergraduate students, the program has continued to grow each year to meet the increasing need for doctors who are technically competent and for engineers who are properly trained in medical science.
DEPARTMENT HIGHLIGHTS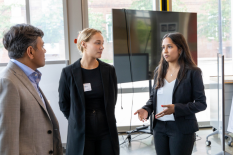 Capstone. Central to the undergraduate experience is an unparalleled, two-semester Senior Capstone design course. Students tackle current human health issues, investigate and conduct research, and meet with industry and bioengineering experts to turn their ideas into novel innovations.
The Capstone course matches small teams of students with industry representatives, medical doctors or surgeons, and other bioengineering experts who serve as clinical mentors on these design projects. Mentors have come from various local institutions, including the University of Maryland School of Medicine, Children's National Health Center, the Food and Drug Administration, and the National Institutes of Health. These clinical mentors play a critical role in helping undergraduates navigate the lifecycle of a bioengineering innovation—from ideation to prototyping—before students graduate from the program.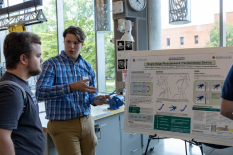 The 2022-23 Capstone teams tackled a wide range of challenges and innovations, including an automated anastomosis device; machine learning to study proteins; dementia tracking using augmented reality; and a surgical tool to remove gastrointestinal polyps. Several of these Capstone teams have continued work with their clinical mentors and may soon see their work published or integrated into procedures at their mentor's company.
Curriculum. The BIOE undergraduate program curriculum is founded in biology, driven by human health issues, and emphasizes innovation. The department's objective is to merge the principles and applications embedded in engineering with the sciences of biology, medicine, and health. The coursework also addresses the issues and challenges of modern day health care. BIOE students dive deep into exploring how disparities in public health access and care—as well as decades-long gaps in representation in bioengineering research—have contributed to preventable differences in disease and injury burdens in the U.S. and throughout the world.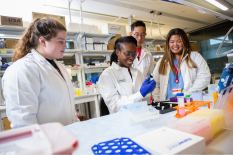 With this foundation, BIOE has intentionally designed the program for career readiness. Having listened to feedback both from BIOE graduates and employers, the department carefully designed skills-based courses and career-centered learning opportunities that enable students to stand out—both by their skillset and their unique experiences—when entering the workforce. All students in the bioengineering major have the opportunity to participate in research in state-of-the-art bioengineering labs on campus, either within the department or through special programs. Students are exposed to a full range of career interests, including those in medicine, human health, foods, government, dentistry, law, pharmaceuticals, biotechnology, ecological/bioenvironmental engineering, biomedical devices, bioprocessing, and teaching.
Published September 19, 2023