UMD Bioengineering Student Named Churchill Scholar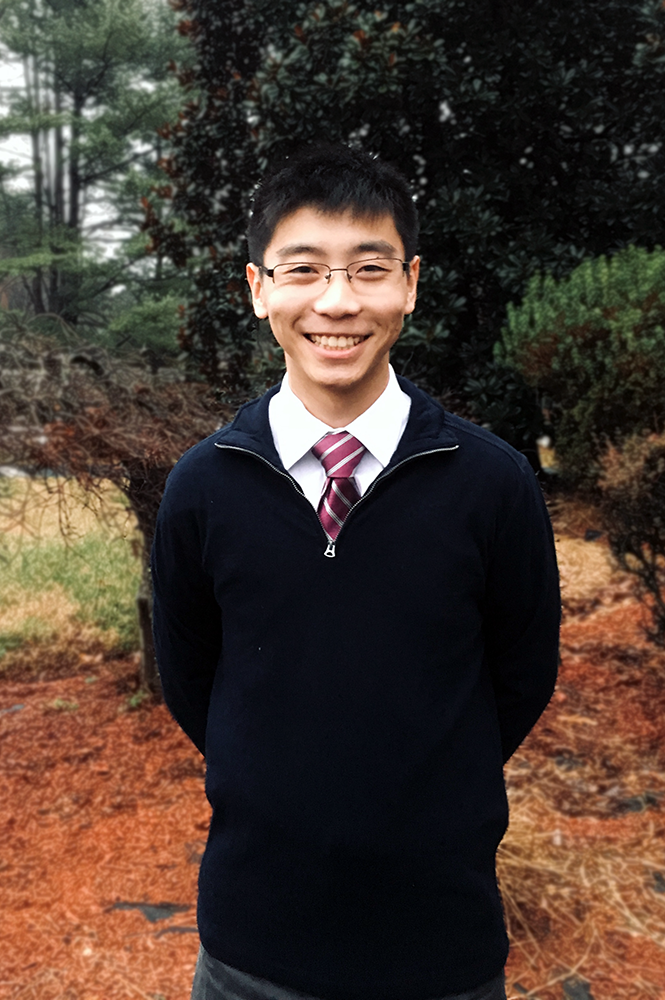 University of Maryland Fischell Department of Bioengineering senior Eric Wang has been awarded a Churchill Scholarship, which offers full funding for a one-year master's degree in science, mathematics, or engineering at the University of Cambridge in the United Kingdom.
Nationally, 16 students were awarded the honor, including one recipient of the Kanders Churchill Scholarship in Science Policy. The Churchill Scholarship—established in 1963 and administered by the Winston Churchill Foundation of the United States—covers tuition and fees, living expenses, travel, and the chance to apply for a $2,000 special research grant.
Wang, who was also named a 2018 Goldwater Scholar by the Barry M. Goldwater Scholarship and Excellence in Education Program, will pursue a master of philosophy degree in chemistry. Working in University of Cambridge Professor Michele Vendruscolo's lab, Wang plans to use computational methods to study biochemical systems in hopes of advancing understanding of Alzheimer's and other diseases.
"Eric's passion for science, engineering, and mathematics is bolstered by his drive to impact others through his work," said John Fisher, chair of the Fischell Department of Bioengineering. "So early in his research career, he has already demonstrated an inherent ability to tackle challenging concepts with the fearlessness and resolve of a veteran scientist. I look forward to following his success at Cambridge and throughout all his future endeavors."
Wang, a member of the UMD University Honors program in the Honors College and a recipient of a 2017 Howard Hughes Medical Institute Research Fellowship, is interested in molecular dynamics, a computer simulation method that models the physical movements of biomolecules.
"These simulations allow access to an atomic level of detail, providing mechanistic insights unavailable to most experiments," Wang said. "As I gain more experience with molecular dynamics, the range of questions my research can answer continually expands, and with it, my passion for the field."
In 2016, Wang began working with UMD Department of Chemical and Biomolecular Engineering Associate Professor Jeffery Klauda. Under Klauda's guidance, Wang focused much of his research on modeling the outer layer of the skin—known as the stratum corneum—and the assembly of its lipids. The stratum corneum protects the human body from damaging and toxic compounds by providing a relatively impermeable barrier for the skin, but topical skin drug delivery developed by pharmaceutical companies must also break through this barrier in order to work effectively.
"Eric's research is cutting edge, in that it is the first to fully probe the complex behavior of the stratum corneum at a fully atomistic level, with a potential to provide models for future studies of drug delivery," Klauda said. "Eric has been the sole researcher in the lab working on this project, at the level one would expect of a top Ph.D. graduate student."
In 2017, Wang joined the lab of Klauda's collaborator, Richard Pastor, senior investigator in the Membrane Biophysics Section of the National Heart, Lung, and Blood Institute at the National Institutes of Health (NIH). There, he used molecular dynamics to determine how a peptide that promotes membrane fusion stabilizes pore formation. In 2018, Wang returned to Pastor's lab to build on his research, and he also began working in the lab of Joshua Zimmerberg, associate scientific director at the NIH Eunice Kennedy Shriver National Institute of Child Health and Human Development.
In the future, Wang hopes to become a professor at a research university studying systems at the interface of biology, physics, and chemistry.
"As one of only 16 students selected for the Churchill Scholarship, I have the rare opportunity to work with internationally renowned researchers and scholars at the University of Cambridge," Wang said. "This will also be my first study abroad experience. Immersing myself in a new culture and meeting people from all over the world will definitely be rewarding. I hope that these interactions will have a fertilizing effect on my ideas and eventually lead to fruitful collaborations in my future research career, not only for my own sake, but for the advancement of scientific knowledge and human health."
To date, Wang has published five papers, on which he served as either first author or co-first author. He presented his work at the 2018 Meeting of the Biophysical Society, the 2018 North Carolina State Chemical Engineering Symposium, and the 2017 and 2018 American Chemical Society (ACS) National Meetings. At the 2017 ACS meeting, he won the Jeffry Madura Outstanding Research Award for his poster presentation.
Wang is a UMD President's Scholarship and an A. James Clark Scholarship recipient. He is a member of Catholic Terps and Knights of Columbus and enjoys being a teaching assistant for engineering courses, mentoring a local high school student in bioengineering research, and tutoring students at K–12 schools near campus.
"The Churchill Scholarships are a bit like Nobel Prizes for the nation's most promising student scientists, and so Eric's achievement is extraordinary," said Richard Bell, a UMD associate professor of history who serves as the university's faculty advisor for the United Kingdom fellowships. "And, it's well-deserved—a fitting recognition of his unrelenting focus and work ethic and his capacity to think his way around every problem that science has put in his path. He'll thrive at the University of Cambridge and will follow the trail blazed by several other Terps who've recently won these unbelievably competitive postgraduate fellowships to study in the United Kingdom."
Wang is the first Clark School student to be named a Churchill Scholar since 2011, when mechanical engineering major Ethan Schaler received the honor.
Published January 14, 2019