UMD Researchers Shed Light on Mechanical Properties of Cells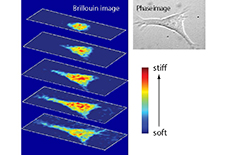 We know that cells are the building blocks of life, and we know about the parts of a cell that make it work, but what do we know about how all those parts make cells work? Right now, not much.
In the last two decades, scientists have begun to recognize that mechanical functions within cells play important roles in making cells work, but current methods of observing a cell's mechanical functions have many limitations that prevent us from truly understanding what those roles are. Right now, the only way to observe a cell and measure its mechanical properties is to freeze, dry, or kill it, or to make contact with the cell. However, these methods disrupt the cell's functionality and, in some cases, destroy the cell, making it difficult to accurately measure and observe the mechanical functions of cells.
Researchers at the University of Maryland (UMD) are on the case, though, and they have invented a nondestructive and nondisruptive method for observing cells and measuring their mechanical functions using light. When light hits an object, it changes color, or wavelength, and this change in color can provide information on the mechanical properties of the object the light hit. This process is called Brillouin Scattering. The research team has invented a high-resolution module, " Cost Effective Brillouin Scattering Retrofit for Confocal Microscopes," which can be attached to microscopes and allows them to quickly measure wavelength changes after light passes through a cell without interfering with the cell's function.
Understanding how mechanical properties affect a cell's function is key to understanding many diseases, making the team's work important to diagnosing and treating disease.
"We are currently blind to the 'mechano-biology' universe, with negative consequences to our understanding of many diseases," said Giuliano Scarcelli, Assistant Professor in the Fischell Department of Bioengineering at the A. James Clark School of Engineering and one of the inventors of this technology. "By providing a non-perturbative method to characterize cell mechanics, we can begin to fill this important gap."
The invention team includes: Scarcelli; Jitao Zhang, post-doctoral researcher in the Fischell Department of Bioengineering at the A. James Clark School of Engineering; and Milos Nikolic, Ph.D. student in the Fischell Department of Bioengineering and the Institute for Physical Science and Technology (IPST).
The team is currently working to form a startup company to further develop and manufacture the invention. They plan to design the module to fit existing microscopes so that biomedical researchers can use it with equipment they already have.
"Light-matter interaction is a fascinating topic that we study at a fundamental level," said Scarcelli. "When applied to biomedicine, it provides new ways to measure important information without labels and without contact— only with light."
For more information and related publications about the Cost Effective Brillouin Scattering Retrofit for Confocal Microscopes, see: http://www.onlylightcandothat.org/
Learn more about Innovate Maryland and the Invention of the Year Award nominees.
Published March 22, 2018