Undergraduates Present Work at APS March Meeting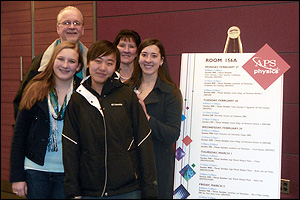 Fischell Department of Bioengineering (BioE) junior Janina Vaitkus and sophomore Di Wu delivered oral presentations on their research at the American Physical Society's (APS) March Meeting, held February 27th to March 2nd in Boston, Massachusetts. Both students are members of Associate Professor Helim Aranda-Espinoza's
Cell Biophysics Laboratory
, where they participate in studies that apply the theoretical and experimental machinery of physics and engineering to obtain a quantitative understanding of problems in biological systems.
Vaitkus' presentation described the biomechanical changes that occur in the vascular endothelium, the single layer of cells lining blood vessels, during an inflammatory response to an infection or injury. Wu's presentation focused on collective cell migration during an inflammatory response.
"Both of us are thrilled to have had the opportunity early in our research careers to present our findings at such a large-scale conference, to get valuable feedback, and to see what ideas are being explored by other groups across the world," says Vaitkus.
Vaitkus and Wu were joined in Boston by Aranda-Espinoza, BioE graduate student and fellow group member Carlos Luna, and Vaitkus' family, who also traveled from Maryland to watch Vaitkus' and Wu's presentations.
Published March 23, 2012