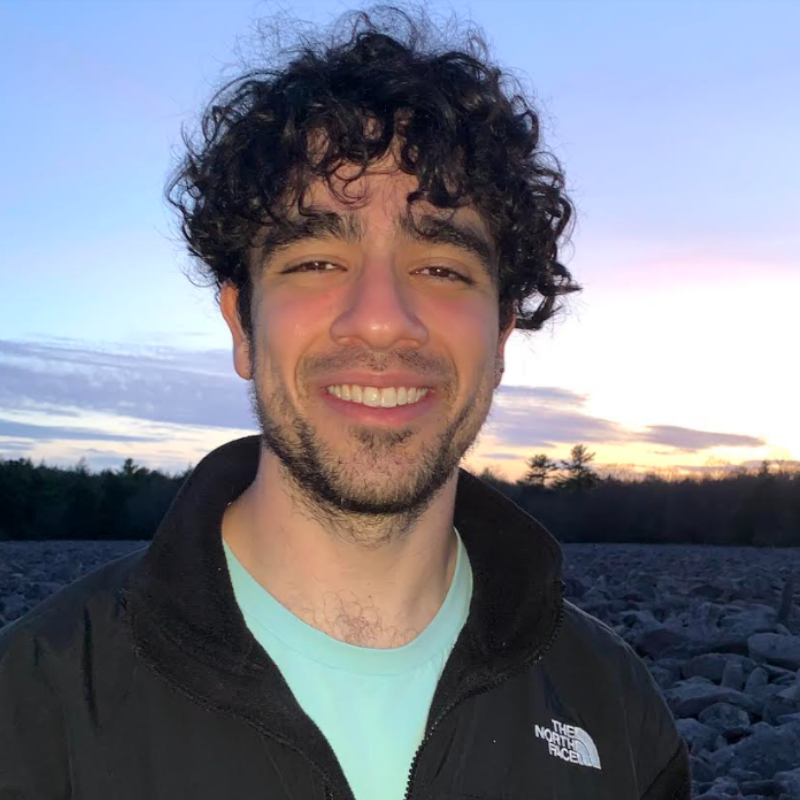 I wanted to gain a deeper understanding of the inner workings of life, and I liked the opportunity to either directly help people and their health or investigate the inner workings of life through research.
Andres Gonzalez earned dual degrees in bioengineering and computer science from the University of Maryland in 2018. His current role is a Software Engineer at Google.
"I've always liked math and science," explains Andres. "I was lucky that my dad works in the scientific community and I was able to talk to him about all sorts of scientific things growing up. This kept me extremely interested in science and so I always knew I'd be in STEM from an early age. I can't emphasize how fortunate I am for that guidance. In the future, I would love to somehow contribute back to society by helping kids get and remain interested in STEM. At the moment, I try to help by going to schools during CS Ed Week and teach grade schoolers about basic programming what engineers at Google do."
Andres spent two years at Montgomery College taking core engineering courses before transferring to the University of Maryland. He enjoyed his biology coursework the most, and liked that he was able to conceptualize what he learned in class in terms of the outside world. 
"Biology is just such a cool discipline as it directly relates to me and my body," says Andres. "I loved that everything I learned was in a way explaining to me how my myself worked. I found I wanted to gain a deeper understanding of the inner workings of life and I liked the idea that I would either be able to directly help people and their health or investigate the inner workings of life through research."
One summer, Andres participated in a REU program in Dr. Mark Styczynski's Lab at Georgia Tech. Among the lab's research focuses is metabolomics, specifically, taking measurements of metabolites in various situations. "Due to my interest in computational biology, Dr. Styczynski gave me a project to work on improving the algorithm that was being used to compute holes in data generated by the instrument that measures the metabolites," says Andres. "I worked the entire summer exclusively using MATLAB trying to apply some mathematical methods and intuition on how the machine works to improve the algorithm."
Andres' advice for BIOE undergrads: do an REU program if you can. "They're excellent experiences, and they pay well. Get your references early!" 
While at UMD, Andres also volunteered in BIOE Associate Professor Silvia Muro's Lab. His primary responsibility was to carry out experiments testing how well different surface molecules on nanoparticles selectively bound to specific surface proteins of cells. He also used the hands-on lab experience to hone his computer science skills, putting data from fluorescence imaging analysis into MATLAB for future researchers. 
"My two experiences were different enough that it helped me understand what I liked to do," says Andres. "I am extremely thankful for Doctors Styczynski and Muro for letting me grow under their guidance. I wouldn't be where I am today without those opportunities."
In 2017, he was accepted into the Maryland Scholars Program. He graduated with dual degrees in 2018, and began working as a Software Engineer at Google.
"My job is half thinking about what to do and the other half is actually executing and coding/testing. I work for the Google Shopping branch, specifically on the back end of the platform," Andres explains. "I build servers and infrastructure that helps with making the data that gets shown to users be more accurate and reliable.
"I'm not solving math problems anymore, but I do have to think mathematically and have a data-oriented mindset," he says. "I highly attribute these skills from the work I've done in my lab research experiences and lab classes. These skills help me draw conclusions about what is happening in our systems and be able to present our data in a clear fashion."
 
Top