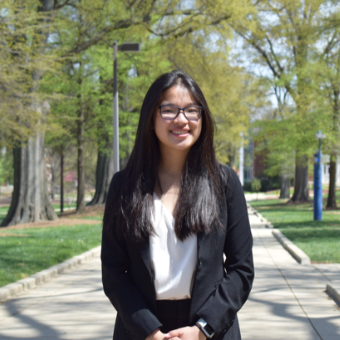 Bioengineering is a difficult major, and it is important to make time and space for yourself and fun extracurriculars.
Fischell Department of Bioengineering (BIOE) rising junior Hannah Lee spent the majority of her childhood summers at her local library events and summer camps. It wasn't long before she zeroed in on her library's science learning nights and STEM summer camps.
Through these summer STEM events, she fell in love with biology and, later, engineering. "I enjoyed learning how to think and process information like an engineer and thought that a field such as bioengineering would be the best of both worlds," Lee said. 
This summer, Lee is spending much of her time studying in BIOE Associate Professor Katharina Maisel's Mucosal Associated Immune System Engineering and Lymphatics Lab.  Through her work, Lee is learning to map lymph nodes and conduct nanoparticle tracking analysis. In addition, Lee has had the opportunity to immerse herself in the lab's diversity and inclusion learning, and she has taken part in meetings about scientific online presence, stereotyping, and building relationships. 
Last summer, Lee had the opportunity to shift gears to work on plant engineering with BIOE Associate Professor Ed Eisenstein. There, Lee supported a project that focused on enzyme kinetics and biochemistry, during which she gained hands-on experience with mass spectroscopy and crystallization.  
After graduation, Lee is interested in pursuing biotherapeutics and research. However, Lee is curious about working in consulting after taking the University of Maryland QUEST Honors Program: Introduction to Design and Quality course (ENES/BMGT 190H). In this course, Lee and her team worked with UMD Dining Services to develop a system for streamlining the order process for customers using a more intuitive interface and efficient order form. The group's aim was to learn about working and consulting with clients in order to broaden their knowledge about services on campus that are widely unknown to students. 
Lee is also a part of FLEXUS, a two-year living and learning community for students who identify as women studying engineering. "Having the opportunity to live on a floor of other engineers during a time where I had no contact with the people in my courses was such an integral part of my success freshman year," she said. Lee also joined the UMD chapter of the Society of Women Engineers, which she said helped her to open up to other engineering majors and to learn about other organizations on campus, like the Women in Engineering Program. 
Lee stays busy as a Clark School Ambassador and as a tour guide with Maryland Images. As a self-acclaimed extrovert, Lee loved the opportunity to help host outreach events, including college tours, Maryland Day setup, and other programs.   "I love being able to talk to prospective students and parents because I remember when [my family and I] first started touring colleges how clueless we were about the processes," she said. 
Lee advises those pursuing a degree in bioengineering to try out as many things as possible. "Finding something that you are passionate about and have fun doing is important," she said. "Bioengineering is a difficult major, and it is important to make time and space for yourself and fun extracurriculars." 
Top