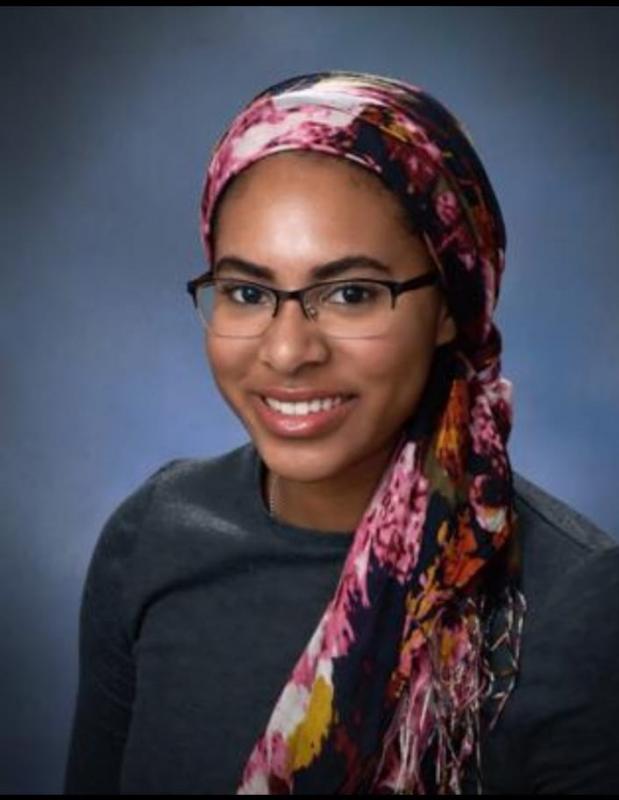 The thing I have always loved the most about the bioengineering department at the University of Maryland has been how helpful and friendly everyone was.
One night, when she was 18 years old, Fischell Department of Bioengineering (BIOE) Ph.D. student ​Idrisa Rahman watched an episode of Grey's Anatomy in which a young girl had a tumor on her trachea. In the episode, the doctors made the girl a new trachea from a 3D-printed scaffold and stem cells they collected from the patient's rib cage.
Although medical dramas often stray from the realm of medical accuracy, 3D-bioprinted tracheal reconstruction is a "real-life" modern bioengineering marvel. 
Amazed by the scene, Rahman fell into a rabbit hole of Googling information about 3D printing and personalized medicine. From that point onward, Rahman knew she wanted to pursue bioengineering in college. 
After earning her bachelor's degree from BIOE in 2019, Rahman continued to work in Institute for Bioscience & Biotechnology Research faculty member Silvia Muro's lab on targeted drug delivery systems. Then, the COVID-19 public health emergency hit,  sending Rahman home to become what she jokingly referred to as a "stay-at-home-daughter." Like so many other students navigating the pandemic, Rahman was left with an unsure feeling about what she wanted to do in the future. 
Still passionate about bioengineering and research, Rahman applied to BIOE's doctorate program. The spring 2022 semester marks Rahman's second as a Ph.D. student. 
"I feel so supported by my PI, (BIOE assistant professor) Dr. Joe Huang, and my labmates, so it's been a really smooth transition so far," Rahman said. "I'm really excited by my research and I just love our lab environment. The thing I have always loved the most about the bioengineering department at the University of Maryland has been how helpful and friendly everyone was."
Rahman added that she has always found it easy to ask for help from her professors and teaching assistants. "It has made me feel so comfortable and welcomed," she said. "That played a huge role in my reason for coming back here to pursue a Ph.D. I knew how supported I would be throughout the whole experience."
Currently, Rahman is working in targeted drug delivery – most specifically, on developing a targeted carrier-free pure drug nanosuspension formulation that could one day improve how cancers or diseases are treated. After graduation, Rahman would love to work in the women's health realm.
"I'd really love to be in a position where I can promote diversity wherever I end up," she said. "I'm a firm believer that diversity makes science better. I think, as people, it's often hard to think beyond our own circumstances. If we have more people of different ethnic backgrounds, socioeconomic backgrounds, with different challenges and abilities, then we automatically have a team that can look at different situations and think about different possibilities to improve health care, patient prognosis, and so forth, and make health and science not just a one-size-fits-all experience." 
Most recently, Rahman has helped establish a private and quiet space in the University of Maryland's A. James Clark Hall. As a Mulism, Rahman prays five times a day. For a while now, she has been praying quietly at her desk. Then, recently, Rahman noticed other Muslim students were doing the same. Although there is an active prayer space in the university's student union, Rahman said it is difficult for students to make it there multiple times a day for a few minutes of prayer. 
Rahman decided to talk to BIOE Associate Chair of Diversity, Equity & Inclusion (DEI) Alisa Clyne. 
"It's not a thing people talk about. It's really nice to talk about mental wellness and physical wellness (as a Ph.D. student) but, I haven't heard anything about practicing spiritual wellness," Rahman said. "It's a huge part of my life and I'm really happy that the department was so willing and accommodating."
In large part because of Rahman's efforts, there is now a dedicated private and quiet room on the third floor of A. James Clark Hall. Students, faculty, and staff who wish to reserve the space may do so by contacting BIOE staff member Rachel Chang.
Top