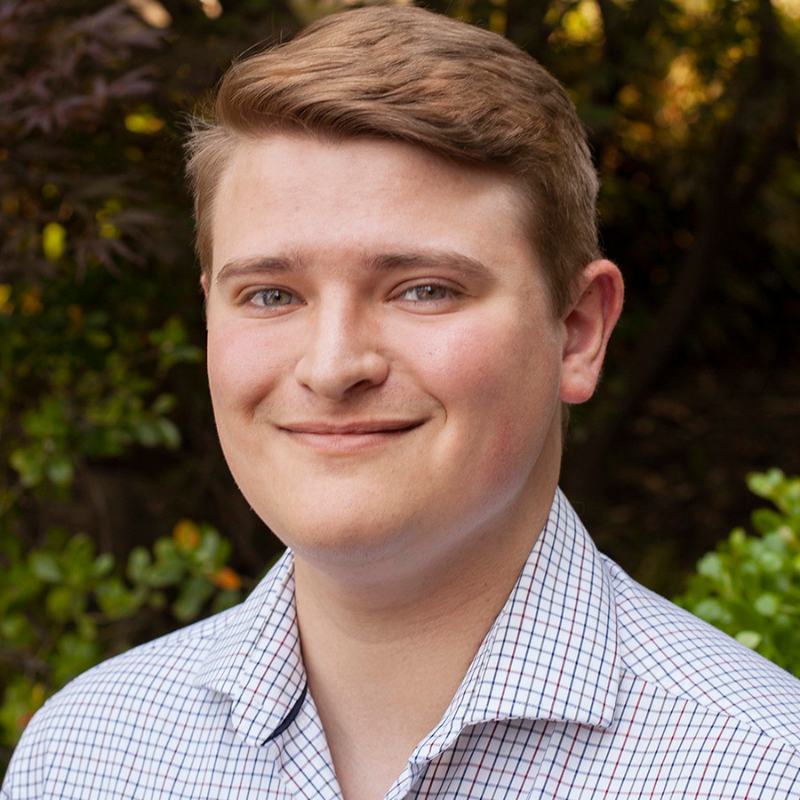 I've known for years that I wasn't the kind of person who would be satisfied with a conventional path.
New Jersey native Jake Rosvold is a first-year Ph.D. student in the Fischell Department of Bioengineering (BIOE), and a member of Associate Professor Giuliano Scarcelli's Optics Biotech Lab. 
Jake became fascinated with optics after receiving a community outreach award from the University of Rochester while still in high school. "I noticed that they were one of the only schools in the country which offered an optics degree," says Jake. "After some research, I realized that the field of optics was in absolutely every new and innovative technology from biological applications to astrophysics." He had always enjoyed and excelled in math and science courses, which snowballed into a passion for optics – a field which Jake says will define the future of global innovation. Jake earned his B.S. in optical engineering and M.S. in optical engineering from University of Rochester's Institute of Optics before beginning his Ph.D. career at the University of Maryland.     
As Jake progressed through dozens of engineering courses and countless hours of research, he imagined careers which would allow him combine his engineering expertise with writing and storytelling. "I've known for years that I wasn't the kind of person who would be satisfied with a conventional path," the Ph.D. candidate explains. "I realized that with my storytelling talents, I could take complex topics and break them down into digestible stories for others to understand even if they weren't experts themselves."
He set his sights on a career as an intellectual property attorney. "I started working at a local white collar crime law firm, Hanamirian Law, where I quickly figured out that this was how I would combine all of my affinities into one," explains Jake. "Law, just like science, requires you to follow a set of rules; they aren't as different as you'd expect. I thought to myself – I like science, I like writing and law, I like storytelling, I like being on the forefront of technology, I like helping others…if I connect the dots…voila! In intellectual property law, I get to explore all of those things. Creatively defending the new inventions of scientists through the man-made rules of law so they can focus on the scientific ones." 
With a new aspiration for intellectual property law in mind, Jake began his Ph.D. in bioengineering in the fall of 2020. Jake sought to get out of his comfort zone and blend optics and bioengineering knowledge to better grasp the biological world. He joined Scarcelli's Optics Biotech Lab, where he can tailor his graduate experience towards his unique career goals – for example, pursuing patentable projects and business-minded technology.
This year, Jake has worked in the lab to develop heat-based tunable planar optics which could have applications ranging from fast focus control to near-focus beam direction. The optical layout involves a pump-probe system that writes a custom refractive index pattern on a coverslip-like planar optic near the focus of a probe beam that can effectively "read" the pattern. Jake uses CODEV and FRED optical design softwares to design the custom patterns on the optics and simulate the effects downstream.

Due to the COVID-19 pandemic, all of Jake's research thus far has been virtual – and he is excited to get into the lab in person. "Because of the pandemic, I rarely get to meet students and professors within the department, however, this has made me cherish the times I have been able to," says Jake. "I believe that  personal connections – something as simple as meeting someone for the first time in person – are even more special coming out of the pandemic. Whether in person or virtual, the connections I have made with students and professors alike have proven to me that UMD is the right place for me. For being such a large school, I've been treated more as an individual and celebrated for my uniqueness far more than I have elsewhere."
After completing his doctoral degree in the Fischell Department of Bioengineering, Jake plans to earn a law degree. "It will be my job to bridge the gap between science and law through the storytelling of complex topics such as optics and bioengineering," explains Jake. "In order to best serve the innovators of tomorrow, I'd better be able to speak their language and be able to understand their thought processes, which is why I am pursuing a Ph.D. in bioengineering here at UMD before I step into the realm of law. While not required to be an IP attorney, I believe that this will be a crucial step along my career path to learn how to become an innovator."
Jake's ultimate goal is to start his own intellectual property law firm to assist numerous innovators in making their mark on the world of biotechnology, while safely establishing their patentable ideas with the U.S. Patent and Trademark Office. "If I've learned anything, it's that applying what you know from one field to another slightly adjacent field is the recipe for creative thought and innovation," says Jake.
He is searching for new recipes outside of the lab, too; one of Jake's biggest passions is brewing new and unique blends of coffee. 
"I drink 3-5 cups of coffee a day – not just because I'm a graduate student, but because I love learning the different techniques and flavor profiles you can create. Everyone has their own preferences with it which is fun to experiment with." His most recent coffee venture has been with a Turkish brewing method.
Learn more about the Scarcelli Lab's optics biotechnology research.
Top