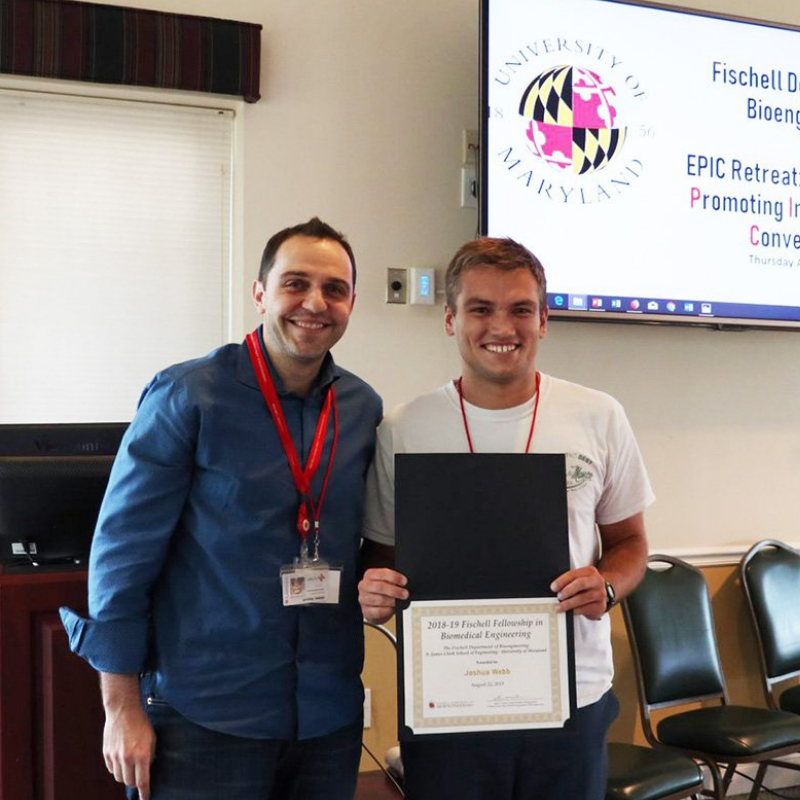 During the long days in the lab, you remind yourself why you're doing this. The work you do can ultimately matter.
Joshua Webb was named the 2018-2019 Fischell Fellow in Biomedical Engineering. He is a fifth-year Ph.D. student in the Fischell Department of Bioengineering (BIOE). 
He earned his B.S. in bioengineering with a focus on biomechanics and biomaterials at Lehigh University in 2016. While there, he also minored in health, medicine, and society. He hails from Aston, a suburb of Philadelphia.
After graduation, Josh joined BIOE as a member of Assistant Professor Giuliano Scarcelli's Optics Biotech laboratory. Scarcelli's group studies the interaction of light and matter to devise novel technology for biological research and clinical medicine. Webb was excited by the translational nature of the group's research, and their efforts to bridge the gap between scientific findings and medical diagnoses. 
Currently, Josh and fellow members of Scarcelli's lab are focused on early detection and better treatment of ocular disorders, particularly those involving the cornea. He explains: "With the eyes, unfortunately, people don't typically get diagnosed with a disorder until their eyesight is worsening. Then, doctors can address the issue to make sure it doesn't get worse, but it's often difficult for them to actually make the issue better. Knowing this, our lab is working to identify key measurements that may indicate an underlying problem, even before a problem presents itself clinically, and improve the treatment options currently available. We're focusing on preventing diseases and disorders of the eye before they really impact quality of life for the patient."
The Fischell Fellow cites this translation from research to medical diagnoses as his favorite part of working in bioengineering. "That's the glamorous part of the field," Josh says. "You're making a difference in someone's life, hopefully. During the long days in the lab, you remind yourself why you're doing this. The work you do can ultimately matter."
The Aston, Penn. native knows this firsthand. Growing up, he was diagnosed with juvenile diabetes, and he saw how technology helped him enjoy everyday life despite it.
"I spent my life relying on different biotech inventions like insulin pumps and glucose monitors," Josh says. "I fell in love with the fact that, nowadays, if you receive this diagnosis, you can still lead a relatively normal life."
While he attributes his initial love of bioengineering to this experience, Josh presses on, hoping his own work can make an impact on human health. He has co-authored four scientific papers, and he looks forward to the new, exploratory research opportunities that the Fischell Fellowship will support.
"I'm excited for the opportunity to be a little more curious," he says.
Top