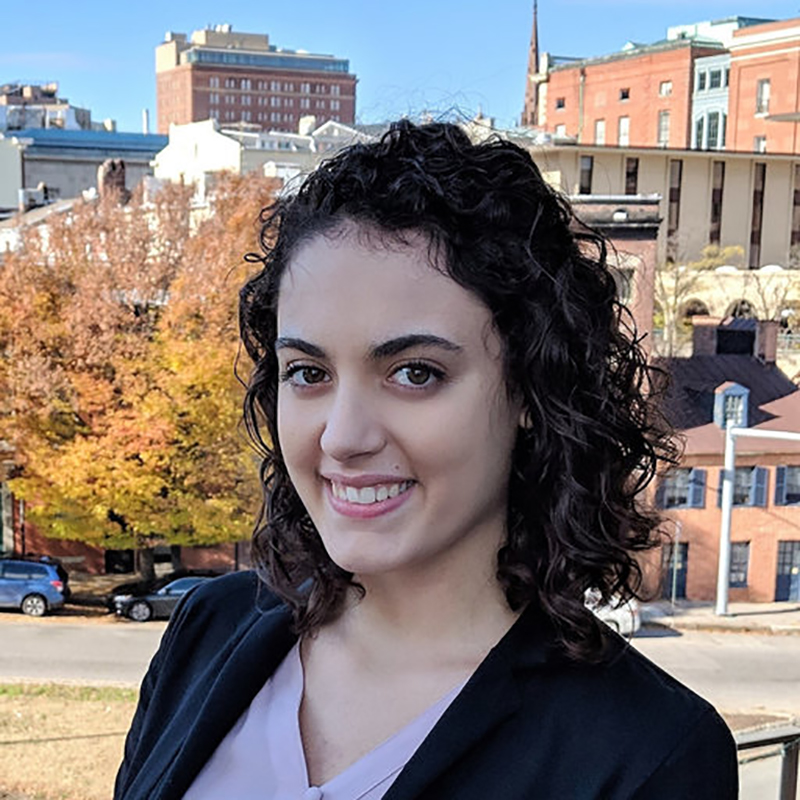 I have grown passionate about mentorship and teaching young researchers - especially other Latina women - to inspire them to pursue research as a career.
Natalie Livingston is a 2018 graduate of the Fischell Department of Bioengineering who, in her junior year, was awarded a prestigious three-year National Science Foundation (NSF) Graduate Research Fellowship. Natalie was recognized for her efforts to develop novel drug delivery techniques that could one day be used to treat a number of genetic diseases and cancers. The fellowship carries a $34,000 award each year, in part, to support the cost of graduate school tuition and fees.
As an undergraduate, Natalie worked in BIOE Assistant Professor Steven Jay's Biotherapeutic Development and Delivery Laboratory, where she and fellow researchers investigated new ways to deliver RNA interference (RNAi) therapeutics to the body. While RNAi therapy offers great promise for the treatment of diseases ranging from Alzheimer's disease to cancer, it still poses many challenges.
"Many proposed delivery vehicles for RNAi therapeutics are synthetic and, therefore, have a higher chance of eliciting an immune response," Natalie said.
Knowing this, Natalie investigated how extracellular vesicles – ubiquitous, biologically-generated structures that naturally transfer nucleic acids between cells – could be used to deliver functional biological cargo to cells, without prompting an unwanted immune response. Natalie applied her research to advance understanding of how extracellular vesicles could improve targeted treatment of HER2-positive breast cancer, a type of breast cancer that is comparatively less responsive to conventional treatments – such as radiation therapy and chemotherapy – than other types of breast cancer.
Natalie's interest in targeted drug delivery research traces back to her early high-school years. At 15 years old, she watched her father undergo interferon therapy for Hepatitis C, and saw firsthand how treatments could carry heavy side effects.
"Despite the therapy's harsh side effects, it was what the doctors believed would be his best hope," she said. "It seemed so impossible that, as far as medicine had come, it was still barely doing more good than harm."
At 17 years old, Natalie jumpstarted her college education in bioengineering and, by her sophomore year, she began to investigate exosomes as drug delivery vehicles that could reduce adverse side effects of nucleic acid therapies.
"It was then that I decided to pursue higher education in bioengineering so that I may conduct my own research to improve drug therapies." 
Natalie's passion for the field stretches well beyond the lab. In her young career, she has already conducted research at the National Institutes of Health as well as with MedImmune. In 2017, she was named the recipient of a Barry M. Goldwater Scholarship and Excellence in Education Foundation honorable mention, and in 2016, she received a competitive Howard Hughes Medical Institute undergraduate research fellowship. That same year, she also co-authored a peer-reviewed publication in the journal Cellular and Molecular Bioengineering on the use of sonication to load small RNAs into extracellular vesicles to knock down oncogenes. 
Even more, Natalie found a love for teaching. As a UMD student, she participated in several mentorship programs, including for Tau Beta Pi (the Engineering Honor Society), the LEAD STEM program at Elizabeth Seton High School, and La Familia. As a member of Alpha Eta Mu Beta, the National Biomedical Engineering Society, Natalie offered tutoring sessions and served as a facilitator for BIOE221: Academic and Career Planning.
"As a female and a Latina, it was not always an easy road to get to where I am today," she said. "I faced sexism in my coursework and in the workplace, and I have grown passionate about mentorship and teaching young researchers - especially other Latina women - to inspire them to pursue research as a career."
Since her freshman year, Natalie also volunteered with the University of Maryland chapter of Engineers Without Borders, a student-led nonprofit organization that partners with developing communities to design and implement sustainable engineering projects. In her first year, she provided logistics support for a project in Ghana, through which she helped source local goods for to support the installation of a solar panel system in a school in Suma-Ahenkro. In her sophomore year, she joined EWB-UMD's executive board as fundraising chair, and led a team of 15 members to meet their chapter's annual budget goal of ~$200,000 by writing grant proposals and planning fundraising campaigns. As a junior, Natalie assumed the role of Secretary, through which she helped manage the club by assigning deliverables, assisting with executive board transitions, and overseeing the planning of several events.
"Engineers without Borders has not only given me technical skills – such as managing funds and writing grants – but it has also shown me the importance of interdisciplinary approaches to solving engineering problems."
Top