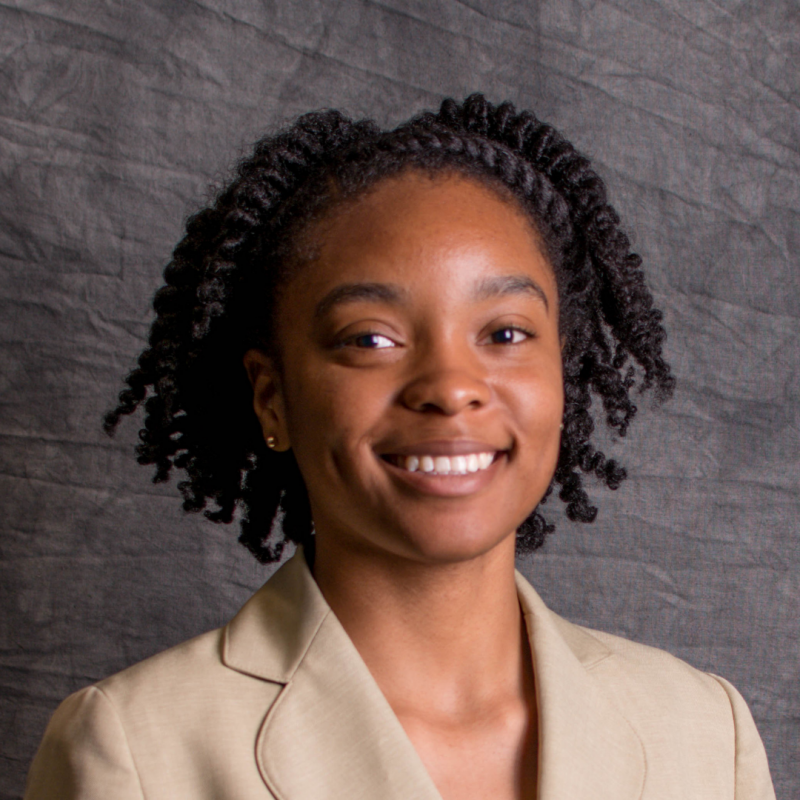 Honestly, I look at those girls, and I wish I had those engineering opportunities growing up.
Every person's career path is unique. Fischell Department of Bioengineering (BIOE) Ph.D. student Sarah Robertson first began to carve out her own path when she took a high school career exploration test that listed "bioengineering" as an option. 
While in high school, Robertson began to explore engineering classes. She has fond memories of the teachers who first sparked her interest in STEM. One time, Robertson participated in a "Barbie bungee jump" project in her math class. The project required students to use various physics equations to calculate how Barbie could successfully "bungee jump" from the high school's second-floor balcony without hitting the floor. 
Fast-forward to 2018: Robertson enrolled in BIOE's doctorate program. "I chose to enroll in the University of Maryland's bioengineering department because it allowed lab rotations. It was also extremely family-oriented, something that was not apparent at any of the other universities where I interviewed," Robertson explained. "I did not do any undergraduate research, so I was very thankful for the opportunity to rotate through different labs to see if I fit well into a specific environment and lab culture."
Currently, Robertson works on amblyopia in UMD Brain and Behavior Institute director Elizabeth Quinlan's lab. Amblyopia is a visual system disorder caused by an imbalance in visual input across the two eyes. A decrease in the strength of synapses serving the weaker eye results in a loss of acuity in that eye. Examples of this asymmetry include lazy eye or the presence of a cataract. Amblyopia is typically resistant to reversal in adults. The overall goal of the lab is to develop methods that treat adult amblyopia. Robertson's research explores potential mechanisms that underlie the brain's response to the visual imbalance.
Beyond the lab, Robertson serves as the graduate student coordinator for the Black Engineers Society (BES). She helped establish the role with guidance from a former BES president after she noticed that graduate students were not as active in the organization nationwide as undergraduates. "In all, BES has also helped me enhance my outreach and teaching philosophies while I build my academic and professional reputations in the lab," Robertson said. 
Robertson has also been involved with Engineering Playdate, a hackathon for girls ages 8-12. The organization aims to provide girls with a chance to explore, learn, and create with engineering-based toys. 
"Honestly, I look at those girls, and I wish I had those engineering opportunities growing up," Robertson said. "I mainly participated in Girl Scouts and sports as a kid. I am thankful for both experiences; however, I wish I was introduced to engineering at an earlier age."
According to Robertson, Engineering Playdate has done an excellent job highlighting the different ways in which STEM plays a role in some of the girls' favorite hobbies. Some activities have centered on themes such as a Rube Goldberg challenge inspired by the movie Inside Out, an avalanche challenge inspired by Mulan, and a flying carpet challenge inspired by Aladdin.
Robertson is also a UMD GEM Associate Fellow. The fellowship was created to enhance the participation of underrepresented groups at the master's and doctoral levels in engineering and science. The fellowship's foundation was also influenced by Dr. Percy Pierre, the first African American to obtain a doctorate in electrical engineering. Robertson also proudly notes that A. James Clark School of Engineering Dean Samuel Graham, Jr. and UMD President Darryll Pines are both alumni of the National GEM Consortium.
After graduation, Robertson would like to continue in academia and acquire a postdoctoral fellowship. More specifically, she would like to return to an engineering-centered lab that's focused on neural circuitry.
Robertson acknowledges that engineering and biology are both dense fields, so bioengineering can seem, at first,  both overwhelming and complex. She notes that, as bioengineers, "we may not know the answers to certain questions. I have learned that it is up to us to be persistent and considerate of different perspectives when asking questions and searching for the answers." 
Recognizing this, Robertson advises current and prospective students not to hesitate to ask professors about their research. "I would recommend reading the latest papers published from that professor's lab," she said. "Take a look at the different techniques they use, and create questions from there."
Top