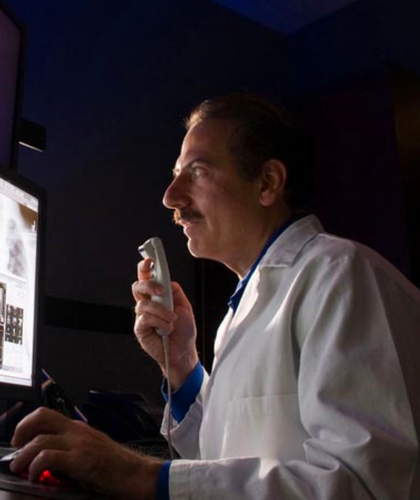 Siegel, Eliot
Adjunct Professor

University of Maryland School of Medicine
Fischell Department of Bioengineering

Website(s):

Dr. Eliot Siegel is Professor and Vice Chair at the University of Maryland School of Medicine, Department of Diagnostic Radiology, as well as Chief of Radiology and Nuclear Medicine for the Veterans Affairs Maryland Healthcare System.  He is the director of the Maryland Imaging Research Technologies Laboratory and has adjunct appointments as Professor of Bioengineering at the University of Maryland College Park and as Professor of Computer Science at the University of Maryland Baltimore County.  Dr. Siegel was responsible for the NCI's National Cancer Image Archive and served as Workspace Lead of the National Cancer Institute's caBIG In Vivo Imaging Workspace. He has been named as Radiology Researcher and Radiology Educator of the year by his peers as well as one of the Top Ten radiologists. Under his leadership, the VA Maryland Healthcare System became the first filmless healthcare enterprise in the world. He has written over 200 articles and book chapters about PACS (Picture Archiving and Communication Systems) and digital imaging, and has edited six books on the topic, including Filmless Radiology and Security Issues in the Digital Medical Enterprise. He has made more than 1,000 presentations throughout the world on a broad range of topics involving computer applications in imaging and medicine.  Dr. Siegel served as symposium chairman for the Society of Photo-optical and Industrial Engineers (SPIE) Medical Imaging Meeting for three years, and is currently serving on the board of directors of the Society of Computer Applications in Radiology. He is a fellow of the American College of Radiology and of the Society of Imaging Informatics in Medicine. 
Picture Archiving and Commincation Systems (PACS), telemedicine, electronic medical records, informatics, artificial intelligence systems
Affordable RT-PCR for clinical diagnostics, fear mitigation device for pediatric MRIs tie for first place.
UM-CERSI announces the 2012-2013 winners of round 1 Exchange Award