Airbrushed Biodegradable Sealant Could Offer Low-Cost, Portable Alternative to Surgical Sutures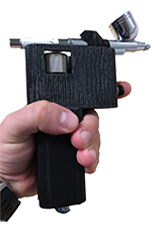 Researchers have long proposed the use of biodegradable mats of polymer nanofibers that are sticky and strong enough to replace the need for surgical sutures. But, scientists have since struggled to develop an effective technique for applying these mats to living cells or tissues.
Additionally, surgeons face another roadblock: traditional suturing techniques do not suffice in a variety of cases, such as those involving lung punctures or cuts to the intestine.
To combat these challenges, Fischell Department of Bioengineering (BIOE) Professor and Associate Dean Peter Kofinas (affiliate, Chemical and Biomolecular Engineering, and Materials Science and Engineering) embarked on a mission, along with BIOE alumni Brendan Casey (Ph.D. '10) and Adam Behrens (Ph.D. '15), Dr. Anthony Sandler of Children's National Medical Center, and a team of University of Maryland researchers. Together, the group launched efforts to develop a surgical sealant and surgery application technique capable of reducing both risks and costs associated with a wide variety of surgical procedures.
Earlier this year, Kofinas was named the recipient of a four-year, $1.5 Million National Institutes of Health (NIH) Research Project Grant (R01) for his work on the project.
Today, nearly all surgical interventions and traumatic injuries require some form of tissue reconstruction or closure of incisions or wounds. Most often, surgeons rely on conventional suturing and tissue stapling, but these techniques often require a multi-step preparation process and carry a number of limitations and complications. Some of today's most frequently used sealants pose risks of disease transmission or toxicity issues, while others have contributed to excessive swelling resulting in injury to neighboring nerves or tissue.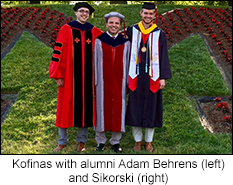 Recognizing this, Kofinas and his research team propose the use of a sealant composed of unique polymer blends that can be applied through solution blow spinning. In this way, Kofinas and his team are able to use an extremely portable and low-cost method to deposit polymer fibers onto tissue and irregular surfaces.
This technology requires only a concentrated polymer solution, airbrush, and compressed gas source, allowing it to be easily miniaturized into a portable sprayer using small CO2 cartridges. In fact, solution blow spinning is such a simple and transferable technique that bioengineers have successfully used commercial airbrushes—such as those typically used for painting—to generate nanofibers.
Because solution blow spinning can be used to fabricate nanofiber mats and meshes for precise and site-specific reconstruction in minutes, the technique could prove extremely useful in surgeries requiring the use of a hemostatic material or sealant. Additionally, this proposed technique is especially useful for instances in which conventional suturing may not be adequate, such as in cases of liver or lung resections. And, the application technique could prove invaluable to first responders to accident scenes involving significant injuries. The work of Kofinas and his research team aims to correlate material properties and deposition conditions to in vitro and in vivo efficacy, and will lead to greater insight into the development of effective surgical materials.
"The development of better sealant materials and surgery application techniques will improve the outcome of procedures such as intestinal, airway, and vascular anastomosis," Kofinas said. "These procedures can be technically difficult and, when complications of leakage occur, have high morbidity and even mortality."
Nevertheless, the research put forth by Kofinas and his team is innovative and unique to the field of medical sealants as it focuses on improvement of material properties and the development of advanced deposition methods that allow for direct nanofiber generation and application on any surface.
On top of the benefits of the low-cost, portable application technique, the sealant itself is biocompatible and degradable, Kofinas said. As such, he and his fellow researchers are continuing their work towards achieving optimal adhesive strength, material strength, and nanofiber generation for use as a surgical sealant.
Additional members of Kofinas' research team include BIOE graduate student John Daristotle, alumni Michael Sikorski (B.S. '15 BIOE), Dimitri Tito (B.S. '16 BIOE), Parinaz Fathi (B.S. '16 Mechanical Engineering), and Brian Heligman (B.S. '16 Materials Science and Engineering), and UMD undergraduate Aristotelis Zografos (Materials Science and Engineering).
Dr. Anthony Sandler is George Washington University Norman Bernstein Professor of Surgery and Pediatrics and Surgeon-in-Chief with Children's National Medical Center. BIOE alumnus Brendan Casey is a Lead Reviewer and Staff Fellow with the U.S. Food and Drug Administration.
In 2014, Kofinas and his team received recognition for their project in Chemical & Engineering News. Writer Katherine Bourzac quoted Jeffrey M. Karp, a bioengineer with Brigham & Women's Hospital, saying: "Using an airbrush to deposit biomaterials directly onto tissue is quite enticing and has potential in many areas of medicine."
In 2016 a publication in Advanced Materials demonstrated adhesion control to tissue through a clever manipulation of the glass transition temperature of blowspun polymer blends.
Published August 19, 2016