White Named University of Maryland 2016 Faculty Advisor of the Year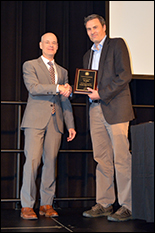 The University of Maryland honored Fischell Department of Bioengineering (BIOE) Associate Chair and Director of Undergraduate Studies Ian White with the 2016 Faculty Advisor of the Year award. White received the award on Tuesday, Aug. 9, during the university's 21st Annual Undergraduate Studies Advising Conference.
An affiliate of the Institute for Systems Research (ISR) and a member of the Maryland Nanocenter and the Maryland Microsystems Initiative, White first joined BIOE in 2008. Today, he and the members of his Photonic Biosensors Laboratory aim to develop integrated microsystems that enable new applications not possible before. Using a systems approach, White and his team of researchers are applying fundamentals of physics, chemistry, and engineering to solve problems relevant to today's critical biomedical applications. In particular, the group emphasizes the use of amplification strategies to add orders of magnitude improvement to chemical and biomolecular sensing, while at the same time improving the simplicity and usability of the technology.
"Dr. White aims to see me reach my full potential," said BIOE undergraduate Adam Berger, a member of White's lab. "He cares about me and wants to make me and his other students the best researchers they can be. [He takes time] to get to know each of us individually, and he suggests projects and ideas best suited to each of our individual abilities, ensuring that we can grow as individual researchers… Dr. White has an open door policy to us and would not turn us away if we ever need something from him."
A former advisor for the Biomedical Engineering Society (BMES), White played an integral role in the establishment of the University of Maryland chapter of Alpha Eta Mu Beta, the national biomedical engineering honor society that recognizes and encourages excellence in the field. White was also instrumental to the development of the university's Bioengineering Honors program, and he provided invaluable mentorship to undergraduates pursuing a senior research thesis.
"Ian brings incredible enthusiasm to his work, particularly in his efforts with education and mentorship," said Fischell Family Distinguished Professor and Chair John Fisher. "We are all very fortunate to have Ian working with us, and we look forward to his continued excellence and leadership over the coming years."
White also remains tirelessly committed to advancing the studies of science, technology, engineering and math (STEM). For years, White has worked to introduce college-level mathematics and basic engineering principles to high school students, and he worked alongside D.C. and Maryland high school faculty to help prepare them to introduce these concepts as part of their curriculum.
In December 2013, White received the A. James Clark School of Engineering's E. Robert Kent Outstanding Teaching Award for Junior Faculty in recognition of his innovations in education. A 2012 National Science Foundation CAREER Award recipient, White holds a Ph.D. in electrical engineering from Stanford University.
Published August 11, 2016