Alum Marc Dandin Appointed to Carnegie Mellon Faculty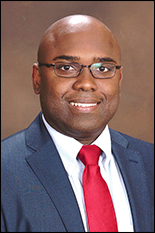 A. James Clark School of Engineering alum Marc Dandin (B.S. '04, M.S. '07, electrical engineering; Ph.D. '12, bioengineering) was appointed as an assistant professor in the Department of Electrical and Computer Engineering at Carnegie Mellon University, effective September 1.
Dandin's research interests lie at the intersection of microsystems engineering, integrated circuit design, and biomedicine. His recent work focuses on establishing new paradigms in technology integration for interfacing electronics with biological systems.
"My vision is to develop a microsystems research program at Carnegie Mellon that is focused on point-of-care diagnostics," Dandin said. "That involves bringing together people with electrical engineering backgrounds for developing integrated circuits that could get to the core of these microsystems. It also involves bringing in bioengineers who could contribute insights for the biology component, and mechanical engineers who can work on packaging the technology."
Dandin's research objectives are twofold. First, he seeks to learn from biology to design more efficient and smarter artificial sensing and actuation systems. Second, he aims to develop translational bioengineering approaches for enabling novel diagnostic methods and therapies that address unmet needs in medicine.
Prior to his faculty appointment, Dandin co-founded and led a startup company that aims to develop microsystems technologies for HIV/AIDS viral load monitoring in resource-limited settings.
"There's a big issue now in terms of how countries can meet the global HIV treatment and prevention goals put forth by the UN," he said. "One of the key problems I identified was that, in countries like Haiti or in sub-Saharan African countries, there's a need to decentralize their viral load testing capabilities."
This would allow for more rapid diagnosis, which, in turn, could position patients for timely treatment and prevent further spread of the virus, he said.
Dandin's experiences with the company – and the challenges he faced in recruiting fellow microsystems experts – revealed to him the importance of preparing engineers to work at the interface of several different STEM disciplines. Such experts could play a critical role in helping to bring promising – and even lifesaving – technologies to market, he said.
While Dandin has always had a love for the sciences, his interests have steered him through learning experiences across several STEM fields.
Growing up in Haiti, he had his heart set on medical school. But, for years, he watched his father work in radio and television. Those experiences fueled Dandin's interest in telecommunications and engineering, and brought him to the University of Maryland.
As an undergraduate, though, Dandin's interests evolved further. His passion for discovering solutions to everyday challenges led him to explore topics in electrical engineering, mechanical engineering, and biomedical engineering, simultaneously.
He then entered the Fischell Department of Bioengineering (BIOE) as a graduate student looking to advance the detection of food- and water-borne pathogens.
Co-advised by current professors Pamela Abshire (Electrical and Computer Engineering/Institute for Systems Research) and Elisabeth Smela (Mechanical Engineering/Institute for Systems Research), Dandin developed a handheld biosensor capable of detecting dangerous pathogens present in quantities of only 10-50 cells, then analyzing and reporting results within minutes – similar to how diabetics are able to quickly test their glucose levels anytime and anywhere using a test strip inserted into a meter. Dandin's proposal earned him the 2008 Fischell Fellowship in Biomedical Engineering.
Looking ahead, Dandin believes engineers will increasingly work across disciplines to develop solutions to many of today's most pressing health challenges.
"One of the things that I am very much interested in seeing is the combination of big data and machine learning with artificial intelligence (AI), with biomedical engineering," he said. "For example, you can have a device that you're using to analyze a cell population to look for a particular biomarker – and that device can collect thousands and thousands of units of data on these cultures, from which we can gain insights using machine learning or AI."
Nevertheless, as science and technology trends evolve, it is important to remember how critical entrepreneurs are to the long-term future of STEM, Dandin said.
"Technologies come and go, but entrepreneurship is what is going to bridge those gaps," he said. "I feel very fortunate to have gone to the Clark School and participated in several entrepreneurship activities and competitions throughout my academic career. There's a very strong culture of entrepreneurship in the region, and I think it's so important that that culture continues to flourish."
Published September 1, 2019