BIOE Student Researchers Receive 2023 SFB Awards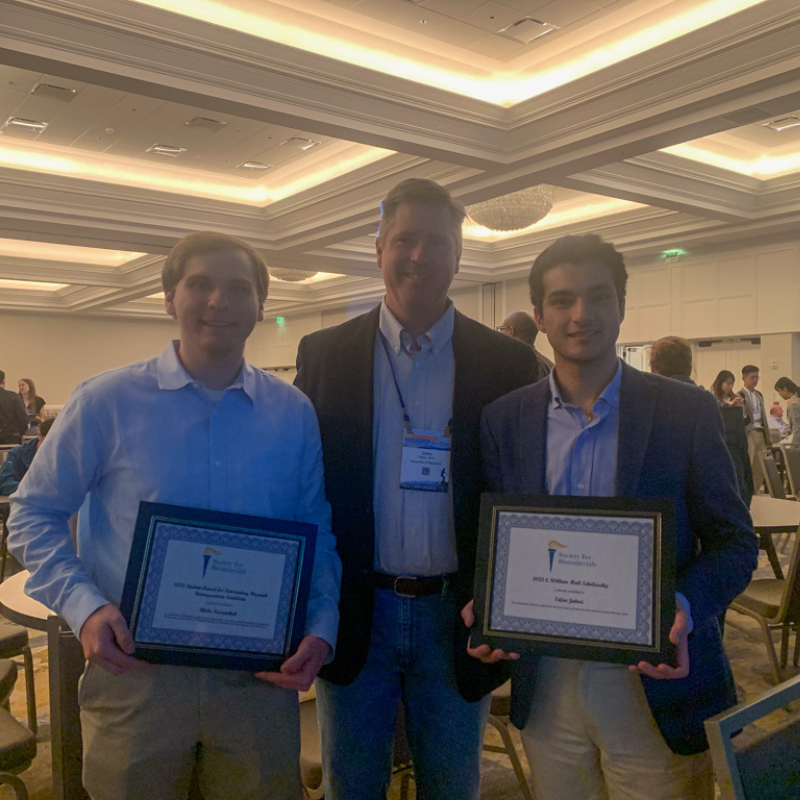 The Fischell Department of Bioengineering (BIOE) left a mark at this year's Society For Biomaterials (SFB) 2023 Annual Meeting and Exposition. On April 19, 2023, senior Blake Kuzemchak and recent alum Erfan Jabari were awarded the SFB 2023 Outstanding Undergraduate Student Research Award and the C. William Hall Scholarship, respectively. Kuzemchak and Jabari have both worked in BIOE Chair Dr. John Fisher's Tissue Engineering & Biomaterials Lab (TEBL).
On receiving his award, Kuzemchak said that it felt great to be recognized for his efforts. However, the most valuable part of this experience, he said, was learning to write and publish a lead-author manuscript. It gives him a head start for what is coming in graduate school.
Kuzemchak is interested in studying regenerative medicine and bionics for amputees. Specifically, he wants to develop neural interfaces that take advantage of the regenerative properties of peripheral nerves to make a far more robust nerve recording device than what the field offers now. Amputees could control more advanced bionics with a more natural feel with this new recording scheme. In fact, these neural implants could, in general, allow the average person to interface their nervous system directly with machines rather than through physical touch.
Kuzemchak enjoyed working in Fisher's lab and was given a lot of independence after training—arare opportunity for undergraduate researchers.
"I have an excellent graduate student mentor, Robert Choe, who helped me understand the key principles of tissue engineering and the workflow of research to shape my raw passion into productive research," he said. "Robert pushed me to be independent and creative in my work, which I used to publish my manuscript. It has been, and continues to be, a rewarding experience working in the TEBL."
This project started as proposed by Fisher and turned into one of his projects. His research was on developing a material that mimics the electrical properties of skin that can be 3D printed on demand into complex structures. This can be used to calibrate Bioimpedance Spectroscopy (BIS) devices that take advantage of the electrical properties of tissue to identify skin cancer. Typical natural materials cannot be readily 3D printed to recapitulate complex tissue and tumor geometries, which can often skew results for BIS devices. However, the semi-synthetic material he developed and characterized is 3D printable and maintains similar electrical properties to the skin.
Jabari is a recent BIOE graduate and has been a member of TEBL since 2019. He has assisted with osteochondral bioprinting studies and completed an honors thesis in bone regeneration. These experiences helped him better grasp the exciting role bioengineering plays in solving medicine's most complex challenges and reinforced his interest in regenerative medicine.
Jabari noted that to be nominated by Fisher and to receive this scholarship award were exciting accomplishments. It was encouraging for his previous undergraduate thesis and the planned National Institute of Dental and Craniofacial Research (NIDCR)/TEBL post-bac research endeavors to be celebrated by SFB.
"During my junior and senior years, I completed an honors thesis that explored the role of hematopoietic osteoclasts in bone formation as a tissue engineering strategy for defect repair," he explained. "The human mesenchymal stromal cell/osteoclast coculture system developed in this work elucidates the anabolic coupling capacity of osteoclasts and provides a platform for future investigations of osteoclast-directed bone formation."
Jabari plans to utilize the skills he gained from this experience to develop transplantable bone marrow models and investigate hematopoietic stem cell mechanobiology as an NIDCR/TEBL post-bac.
Published May 18, 2023