BIOE Seniors Receive ILS Honors Program Awards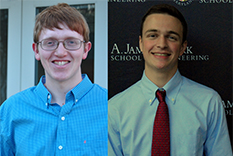 Bioengineering seniors Jules Allbritton-King and Connor Hall received accolades from the University of Maryland's Integrated Life Sciences (ILS) Honors program.
ILS is a biological sciences-focused and accelerated curriculum for talented STEM students. The program includes a significant research requirement, a two-year commitment to coursework, and a student-driven service-learning experience.
Allbritton-King received the ILS Outstanding Research Award. He was recognized for his work in Fischell Department of Bioengineering (BIOE) Professor and Chair John Fisher's Tissue Engineering and Biomaterials Laboratory, which Allbritton-King joined in the fall of 2017.
In the fall of 2018, Allbritton-King began his independent research project for the BIOE Honors Program. The project involves the use of decellularized porcine bladder tissue to develop a hydrogel-based wound dressing for chronic, non-healing diabetic ulcers. He spent last summer working full-time in the lab on his project. "I'm really excited to continue working on my thesis research leading up to my defense in April 2020. I spent the majority of my summer perfecting my protocols and characterizing the hydrogel, and this year I will be focusing on testing the effects of my hydrogel on fibroblast proliferation and migration in vitro."
Fisher presented his student with the ILS award, saying: "Jules' genuine desire to learn is the greatest driving force behind his enthusiasm for research. He's extremely dedicated to research and is excited to learn."
The senior will present his research at the Biomedical Engineering Society's Annual Meeting this October in Philadelphia.
Connor Hall received the ILS Teaching Award. He was recognized for redesigning the discussion section curriculum for the ILS Genetics and Genomics course. This four-credit course starts with an overview of basic Mendelian and molecular genetics, then focuses on the understanding and application of genomics to contemporary research, medicine, biotechnology, and societal issues. Working as a teacher's assistant and later as Head Undergraduate Teacher's Assistant inspired Hall to take a closer look at the coursework.
Hall was also recognized as the BIOE Outstanding Junior in 2019. He is a member of BIOE Associate Professor and Associate Chair Ian White's Amplified Molecular Sensors laboratory.
"Connor joined my lab at the end of his freshman year, and is currently doing research within the BIOE Honors Program," said White. "Specifically, he aims to develop a new tool based on paper and inkjet-printed metal nanoparticles for the specific identification of multi-drug resistance (MDR) in pathogens. His work may lead to easier methods for MDR infections to be identified and may better promote appropriate use of antibiotics. He is extremely bright and is dedicated to his research, and will most certainly make an impact to the bioengineering world upon graduating."
Hall will also be recognized as a Philip Merrill Presidential Scholar later this year.
Published September 3, 2019