UMSOD Highlights Lowe's Nanotechnology Research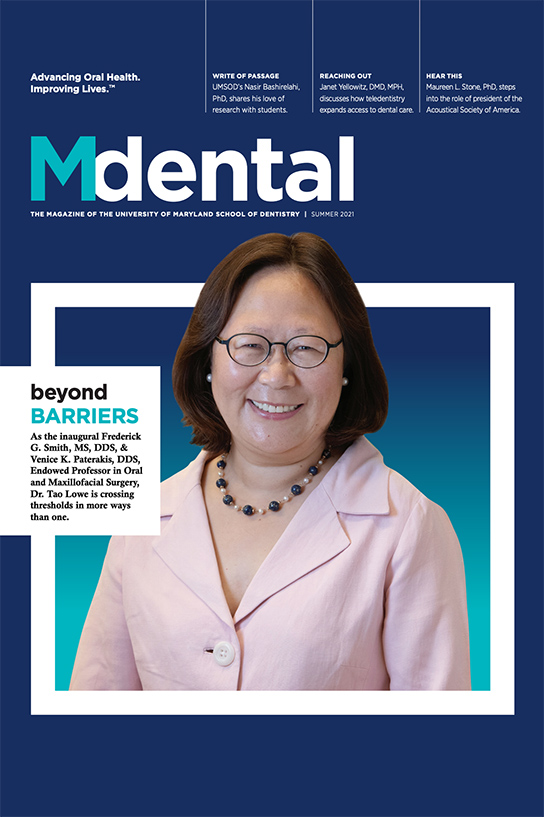 The University of Maryland's School of Dentistry (UMSOD) highlighted Tao Lowe's work on the design and development of therapeutic strategies for the treatment of cancers and the regeneration of bone, cartilage, and other tissues. Lowe holds a joint appointment as a professor with both the Fischell Department of Bioengineering and UMSOD.
The UMSOD feature ran in the summer 2021 edition of Mdental, the college's print and online magazine.
Growing up in China, Tao Lowe suffered from tooth decay and received multiple fillings that, to her chagrin, came in gold, silver, and black. The experience made the young daughter of chemical engineering professors swear off sugary foods for years — and dream of developing more natural-looking materials that would make her smile beautiful.
Although as a youth she didn't invent a way to ensure what she calls "pretty teeth," Lowe's talent for spotting problems and dreaming of solutions has fueled her career as a scientist.
Today, her nanotechnology research focuses on delivering drug therapies across some of the human body's least-permeable barriers. Her lab at UMSOD is developing, among other things, delivery platforms that can cross many biological barriers and offer the controlled release of drugs that have the potential to aid patients with a wide range of diseases such as oral cancer and diabetic retinopathy.
Lowe is also leading UMSOD across an important institutional threshold as the inaugural Frederick G. Smith, MS, DDS, & Venice K. Paterakis, DDS, Endowed Professor in Oral and Maxillofacial Surgery — UMSOD's first endowed professorship.
Read more by viewing Mdental online. The above text is an excerpt of the piece written by Holly Selby for the University of Maryland School of Dentistry.
Published July 20, 2021