UMD Bioengineering #1 in CMBE Young Innovator Awards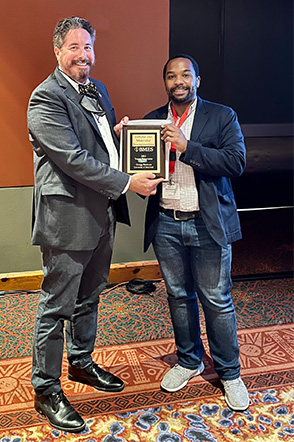 University of Maryland Fischell Department of Bioengineering Assistant Professors Gregg Duncan and Katharina Maisel were named 2022 Young Innovators by Cellular and Molecular Bioengineering (CMBE), a journal of the Biomedical Engineering Society (BMES). The two early-career faculty were honored last week at the Biomedical Engineering Society annual meeting in San Antonio, Texas, alongside fellow award recipients.
With Duncan's and Maisel's awards, the University of Maryland is now the #1 all-time leader in CMBE Young Innovators.
Duncan and Maisel were recognized for their respective contributions to drug delivery research. Their corresponding papers were published in Cellular and Molecular Bioengineering earlier this year.
Duncan leads the Respiratory NanoBioengineering (RnB) Lab, where researchers engineer biological soft matter and nanomaterials in order to understand biological processes and develop new therapies, with an emphasis on pulmonary disease applications.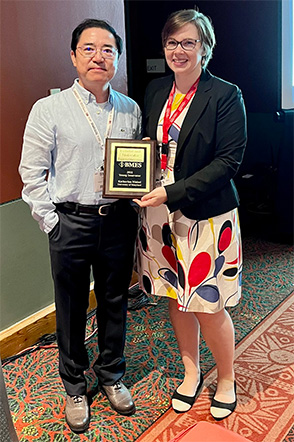 Maisel leads the Mucosal Associated Immune System Engineering and Lymphatics Lab, in which researchers use in vitro modeling, nanotechnology, and immunoengineering approaches to study and develop treatments for diseases at mucosal surfaces, such as inflammatory bowel disease (IBD), allergies, and asthma.
Duncan's CMBE paper is titled "High-Density Branched PEGylation for Nanoparticle Drug Delivery." Maisel's CMBE paper is titled "Generating an in vivo gut model with physiologically relevant biophysical mucus properties."
Published October 21, 2022