BIOE Announces Fall 2022 Instructional Impact Awards
The Fischell Department of Bioengineering (BIOE) announced the recipients of three Instructional Impact Awards honoring a tenure-track faculty member, graduate teaching assistant, and undergraduate teaching assistant, respectively. The awards give students a unique opportunity to nominate a BIOE educator who has positively impacted their academic experience.
BIOE Associate Professor Catherine K. Kuo was awarded the Faculty Instructional Impact Award for the second time. Kuo, an expert in biomaterials, mechanobiology of tendon development, stem cell-based tissue engineering, and regenerative medicine, was nominated by students in her BIOE120: Biology for Engineers course. Students overwhelmingly acknowledged her passion for teaching and the effort she put into helping them succeed.
Several student nominations noted how Kuo inspired confidence in themselves. Kuo also shared her non-traditional journey leading her to the university and the challenges she overcame. She also opened her door to students for both personal and professional reasons. In the classroom, Kuo took the initiative to create numerous drawing activities to help visual learners, among other learning efforts, so that everyone can understand. "This award is incredibly meaningful, even more so the second time. It is a privilege to have the opportunity to instill in first-year students the ability to think critically and independently," Kuo said. "These skills will empower our engineering students for success throughout college and life beyond. It is inspiring to know from these student nominations that my efforts are impactful."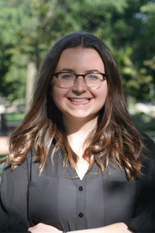 Sarah Browning, a BIOE first-year Master of Engineering student, received the Graduate Teaching Assistant Instructional Impact Award in recognition of her contribution to BIOE121: Biology for Engineers Laboratory. Students noted an appreciation for Browning's preparedness for labs, coming in early, staying late, and going above and beyond to post model calculations, sample readings, etc., on ELMS. Students also acknowledged how well Browning demonstrated all the labs and emphasis on using the right skills. "I have so much respect for my fellow Graduate Teaching Assistants and educators as I know not only how much work and dedication they put into teaching the students but also how meaningful it is to have a good teacher," she said. " I think I learned from them as much as they learned from me."
Uzair Chaudhary, a BIOE senior, was named the recipient of the Undergraduate Teaching Assistant Instructional Impact Award for his contributions to BIOE241: Biocomputational Methods. Numerous students noted that Chaudhary took the time to review their code and help them understand the problems. Students also commented on Chaudhary's communication skills, how quickly he responded to emails and his clear explanation of the material. "Coding, in particular, is a tough topic to grasp — and for most students, this course is their introduction to the topic," Chaudhary said. " I have always loved coding, and I enjoy being able to provide as much help and time for the projects in Biocomputational Methods."
Published January 20, 2023