Koroma Awarded Jeffrey C. and Sandra W. Huskamp Endowed Scholarship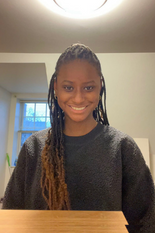 Fischell Department of Bioengineering junior Bintou Koroma received the Jeffrey C. and Sandra W. Huskamp Endowed Scholarship.
The Jeffrey C. and Sandra W. Huskamp scholarship is for undergraduate students majoring in bioengineering. Recipientsare selected based on merit or financial need, as demonstrated by the Free Application for Federal Student Aid(FAFSA).
This award will pay for Koroma's housing, making it easier for her to remain an on-campus student. Koroma noted that she is grateful that the scholarship will enable her to continue to more easily participate in on-campus activities without the need to commute from off-campus to maintain her involvement.
Koroma likes that the bioengineering field provides opportunities to get involved in work that is changing and saving lives. She finds it exciting to translate theory into new, tangible solutions. Her current research interests lie in the fields of bioinstrumentation and biomaterial engineering. Specifically, she is interested in designing and developing medical devices and cell, tissue, and artificial organ engineering. After graduating, Koroma plans to find a research and development position in the industry. She plans to tally a few years of work experience before pursuing a master's degree.
Published January 9, 2023