Maryland Engineering's John Fisher Appointed MPower Professor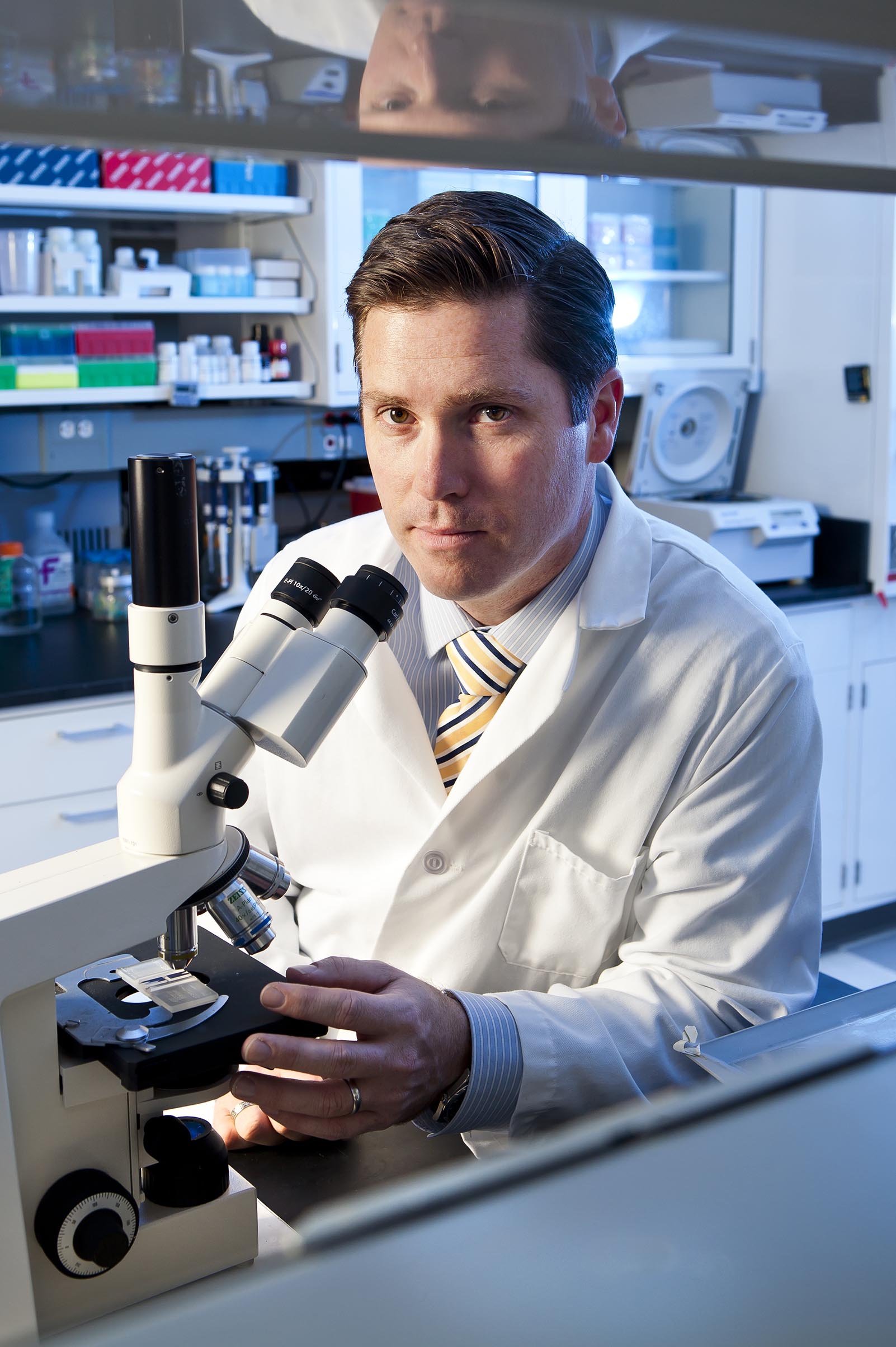 Fischell Family Distinguished Professor and Fischell Department of Bioengineering (BIOE) Chair John P. Fisher was named an MPower Professor by the University of Maryland Strategic Partnership: MPowering the State. Fisher is one of three University of Maryland, College Park (UMCP) faculty members to receive the honor along with three University of Maryland, Baltimore (UMB) faculty members.
Fisher was recognized for both his collaborative research efforts and the key role he has played in establishing new connections between the two campuses. On the research front, Fisher most recently worked with cross-campus collaborators in the areas of stem cell culturing and tissue reconstruction for breast cancer patients. As BIOE department chair, Fisher has been instrumental in the establishment of the joint M.D./Ph.D. and M.D./M.S. programs with BIOE and the School of Medicine (UMB), as well as in the launch ofNeuro-Link, an initiative to provide funding support for joint BIOE and Department of Neurosurgery (UMB) research endeavors.
The MPower Professorship recognizes, incentivizes, and fosters collaborations between faculty who are working together on the most pressing issues of our time. To be considered for the MPower Professorship, faculty must demonstrate collaboration on strategic research that would be unattainable or difficult to achieve by UMB or UMCP acting independent of one another, and must embrace the mission of MPower to collaboratively strengthen and serve the state of Maryland and its citizens.
Each professor will receive $150,000, allocated over three years, to apply to their salary or to support supplemental research activities. These funds recognize, enable, and support strong collaborations between faculty in the joint research enterprise between UMCP and UMB.
Fisher is the second BIOE faculty member in as many years to receive the honor, following Minta Martin Professor of Engineering Christopher M. Jewell in 2021.
"The MPower Professors have shown incredible dedication and commitment to collaboration, innovation and discovery. Their work to solve major challenges and positively impact the lives of others is bolstered by this investment," said UMB President Bruce E. Jarrell, M.D.
"The six professors selected for this honor are each working across disciplines to address the most complex challenges facing society today, bridging research and scholarship between institutions to foster innovation that will impact citizens in Maryland, across the country and around the world," said UMCP President Darryll J. Pines.
As the director of the Tissue Engineering and Biomaterials Lab, Fisher leads his research team in investigating biomaterials, stem cells, bioprinting, and bioreactors for the regeneration of lost tissues – in particular, bone, cartilage, and cardiovascular soft tissues. Fisher's lab has published more than 200 articles, book chapters, editorials, and proceedings and delivered more than 340 invited and contributed presentations, while utilizing more than $15 million in financial support from the National Institutes of Health (NIH), the National Science Foundation, the U.S. Food and Drug Administration, the National Institute of Standards and Technology, the U.S. Department of Defense, and other institutions.
"Healthcare is a multifaceted challenge that requires collaboration from different fields: clinicians, engineers, scientists, and public health experts partnering on solutions to today's most pressing challenges. As leaders in the scientific community, we have a responsibility to strengthen the ties that make human health innovation possible. Dr. Fisher is making good on that responsibility," said Maryland Engineering Dean Samuel Graham, Jr. "We see Dr. Fisher's dedication to his students, department, and the broader community every day, and we're fortunate to benefit from his leadership at Maryland Engineering."
In addition to his BIOE appointment, Fisher is also the director of the Center for Engineering Complex Tissue, an NIH National Institute of Biomedical Imaging and Bioengineering center established to create a broad community that focuses on 3D printing and bioprinting for regenerative medicine applications.
Fisher is an elected Fellow of the American Institute for Medical and Biological Engineering, the Biomedical Engineering Society, and the International Academy of Medical and Biological Engineering. Among his previous awards, he has received the Society for Biomaterials Clemson Award for Contributions to the Literature, the Tissue Engineering and Regenerative Medicine International Society – Americas' Senior Scientist Award, and a Fulbright Fellowship to study at the National University of Ireland, Galway. Currently, he serves as editor-in-chief of the journal Tissue Engineering, while also editing six texts in the field of tissue engineering.
Fisher earned a B.S. in biomedical and chemical engineering from Johns Hopkins University in 1995, an M.S. in chemical engineering from the University of Cincinnati in 1998, and a Ph.D. in bioengineering from Rice University in 2003. He completed a postdoctoral fellowship in cartilage biology and engineering at the University of California, Davis in 2003.
The University of Maryland Strategic Partnership: MPowering the State leverages the sizable strengths and complementary missions of both UMB and UMCP to strengthen Maryland's innovation economy, advance interdisciplinary research, create opportunities for students, and solve important problems for the people of Maryland and the nation. Working together, UMB and UMCP achieve innovation and impact through collaboration.
The University of Maryland Strategic Partnership Act of 2016 strengthened and formalized the structured relationship between UMB and UMCP, which began in 2012. The law deepens the alliance and enables UMB and UMCP to pursue even greater transformative change and impact, far surpassing what each institution could do independent of the other.
Published November 7, 2022