Dr. Stroka, Erfan Jabari Receive Winston Family Honors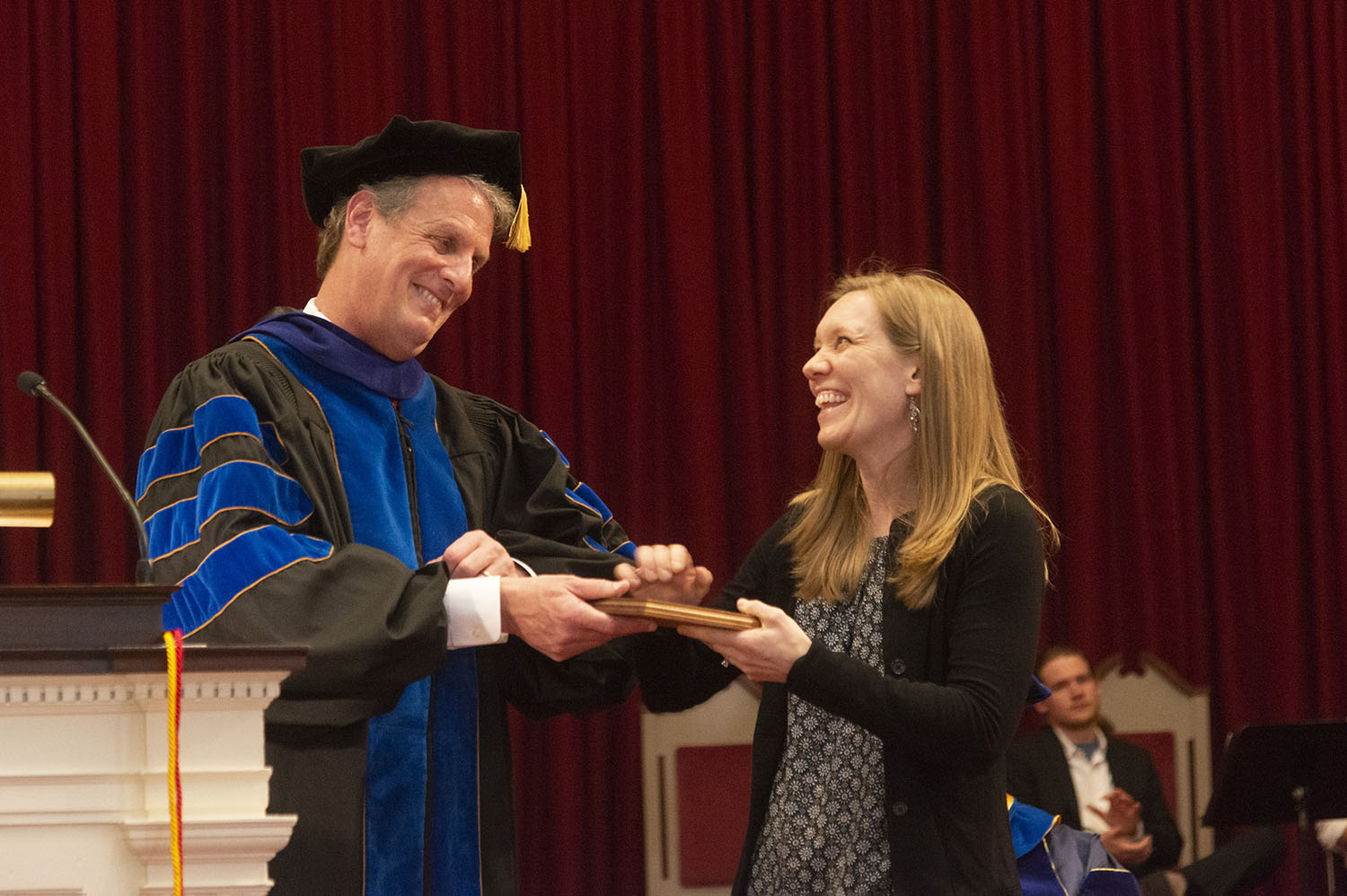 Fischell Department of Bioengineering (BIOE) Associate Professor Kimberly Stroka (BIOE Ph.D. '11) and BIOE senior Erfan Jabari received 2022 Winston Family Honors Awards during the University of Maryland (UMD) Honors College Citation Ceremony on Friday, April 29.
Stroka received the Winston Family Honors Outstanding Faculty Award, the highest teaching honor bestowed by the Honors College in recognition of outstanding faculty advising, mentorship, and supervision of Honors students at UMD. Jabari received the Winston Family Papers Award for Outstanding Honors Thesis.
Established by Roger ('76, '79) and Karen Winston ('75), the annual UMD Winston Honors Writing Awards recognize the best essays, research papers, and theses written by honors students.
"Receiving the Winston Family Outstanding Faculty Award is a huge honor," Stroka said. "It's been wonderful to work with the BIOE Honors students as Director of the Bioengineering Honors Program over the past five years. I find it inspirational to watch these undergraduate students as they learn the research process, explore their own independent research projects, and come to a point where they can present and defend their work in front of a committee of faculty."
Stroka, a BIOE alumna who joined the department as an assistant professor in January 2015, heads the Cell and Microenvironment Engineering Lab. There, she and her research team focus on understanding the interplay between mechanical and biochemical cues from the cellular microenvironment on cellular behavior during normal homeostasis, progression of diseases, and therapeutic treatments.
Stroka also currently serves as the director of BIOE's Honors Program and as co-director of the National Cancer Institute/UMD Partnership for Integrated Cancer Research. She holds affiliations with the UMD Center for Stem Cell Biology and Regenerative Medicine, the Marlene and Stewart Greenebaum Cancer Center, and the UMD Biophysics Program.
Stroka's previous honors include a National Science Foundation Faculty Early Career Development (NSF CAREER) Award (2020–2025), the Cellular and Molecular Bioengineering Young Innovator Award (2019), the Burroughs Wellcome Career Award at the Scientific Interface (2014–2019), the Outstanding Young Scientist Award from the Maryland Academy of Sciences and Maryland Science Center (2017), and the Rita Schaffer Young Investigator Award from the Biomedical Engineering Society (2014).
"Being director of the BIOE Honors Program has also been meaningful to me personally because my own undergraduate Honors thesis was a pivotal point in my own career development and set me on a path to further pursue research," Stroka said. "I'm excited to help mentor the next generation of scientists and engineers and provide a path – through the Honors Program – for them to develop their research skills and enter into biomedical research careers."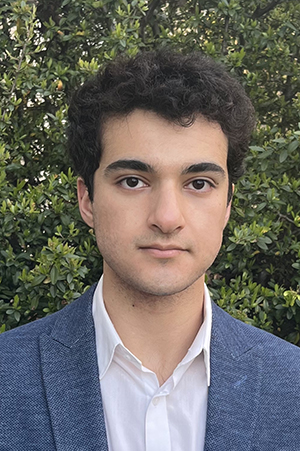 BIOE undergraduate Erfan Jabari received the 2022 Winston Family Papers Award for Outstanding Honors Thesis for his work titled "Modeling Osteoclast-Directed Bone Formation in 2D Culture Systems."
Erfan, an undergraduate researcher in BIOE professor John Fisher's Tissue Engineering & Biomaterials Laboratory, focused his thesis on critically-sized bone defect repair in orthopedic medicine.
"Bone tissue is naturally able to repair damage and regenerate completely, but medical intervention becomes necessary when a defect's size is too large," Jabari said. "Bone grafts – the current treatment option – are limited in supply and pose a significant risk of donor site morbidity or immune rejection. Bone tissue engineering aims to address these shortcomings by developing synthetic constructs that coordinate biomaterials, cells, and bioactive signals to facilitate tissue repair."
In bone tissue engineering, mesenchymal bone-forming cells have been explored thoroughly as a tool for defect repair, he noted. The role of osteoclasts – their bone resorbing counterpart – has not been investigated as extensively. Recent bone physiology research shows, however, that osteoclasts have an interesting ability to interact with bone forming osteoblasts and mesenchymal stem cells (MSCs) through a variety of mechanisms to stimulate bone formation. Motivated by this concept, Jabari and fellow members of Fisher's lab sought to develop a system whereby osteoclast-directed bone formation could be observed and investigated for bone tissue engineering purposes.
"In this effort, we successfully developed a 2D coculture model of human MSCs and peripheral blood-derived monocytes (progenitors of osteoclasts)," he said. "Our system shows that bone formation is enhanced in conditions where osteoclast development is facilitated, corroborating evidence that osteoclasts support the activity of bone forming cells. Specifically, we observed known features of osteoclast-directed bone formation such as MSC proliferation and matrix development, and a novel feature – MSC clustering."
Ultimately, the group demonstrated the potential of osteoclasts in bone tissue engineering to inform future strategies for bone defect repair, Jabari said. The work, which revealed the ability of osteoclasts to induce MSC clustering, also provides an accessible system for further investigation of osteoclast-directed bone formation.
In addition to his Winston Family Honors Award, Jabari was also recently named one of the University of Maryland's Undergraduate Researchers of the Year.
Jabari plans to graduate in December 2022, after which he hopes to explore a M.D./Ph.D. program.
"I am excited to expand on the experiences the Fischell Department of Bioengineering has granted me, wherever that may be!" he said.
Published May 10, 2022