Andorko Awarded AAPS Graduate Student Fellowship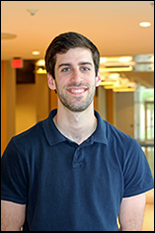 Fischell Department of Bioengineering (BioE) graduate student Jim Andorko was named the recipient of an American Association of Pharmaceutical Scientists (AAPS) Foundation Graduate Student Fellowship. The award provides $10,000 per year for up to two years to fund cutting-edge research in fields associated with pharmaceutical sciences. Andorko was one of just five winners of this year's award, along with three recipients from the United States and one from China.
Andorko is a fourth-year graduate student in BioE Assistant Professor Christopher Jewell's Immune and Autoimmune Engineering Laboratory.
Andorko is studying how degradable materials that are currently used as vaccine and drug delivery carriers influence immune response as their properties change during biodegradation. He is using a combination of materials science, cell culture, and studies in animal models to test the hypothesis that the degree of degradation of these carriers impacts the type and effectiveness of vaccine responses that are generated.
Andorko's work focuses on how the local structure and function of lymph nodes – tissues that coordinate immune response – are altered by the changing properties of these polymeric carriers. This information is important because the interactions of immune cells with vaccines in lymph nodes determines how effectively systemic immune responses against infections, cancer, or other diseases are generated.
Andorko will also compare his findings to the effects that FDA-approved vaccine components drive, with the goal of supporting more rational design of future vaccine carriers, which can not only act as passive delivery vehicles but can also drive immune responses toward specific outcomes.
Prior to receiving the AAPS Graduate Student Fellowship, Andorko was also named the recipient of a National Institutes of Health T32 graduate student fellowship.
In addition to Andorko, Krystina Hess of the Jewell Research Lab received a 2015 AAPS Foundation Graduate Student Honorable Mention award. Hess was recognized for her proposal, "Self- Assembled Nucleic Acid Particles to Drive Immune Tolerance."
Published September 21, 2015