Using Biomaterials as Tools to Study and Control Immune Function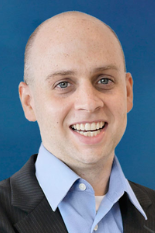 Fischell Department of Bioengineering Professor and Robert E. Fischell Institute for Biomedical Devices faculty member Christopher Jewell presented the Miegunyah Distinguished Fellowship Public Lecture at the University of Melbourne earlier this month.
Jewell – who is MPower Professor and Minta Martin Professor of Engineering, as well as a research biologist with the U.S. Department of Veterans Affairs – was appointed the Miegunyah Distinguished Visiting Fellow last year. He has since spent time working on new vaccines in the Peter Doherty Institute for Infection and Immunity.
Jewell's research combines immunology and biomaterials to understand the interactions between synthetic materials and immune tissues, and to design more selective therapeutic vaccines for cancer and autoimmunity.
Jewell's lecture highlighted the recent efforts toward these goals combining materials science and bioengineering tools, cell culture, animal models, and samples from human patients. In it, he discussed the new degradable polymer depots that could improve the selectivity of therapies for autoimmune diseases such as multiple sclerosis and diabetes by locally reprogramming the function of lymph nodes – the tissues that coordinate immune function.
Jewell also presented on his lab's efforts to self-assemble immune signals into modular nanostructures. This rational design approach allows activation of programmable combinations and levels of immune pathways triggered. Modular control over these aspects of immune signaling could help improve the efficacy of vaccines for cancer and infectious disease, and enhance the efficiency of vaccine translation.
The goal of the Miegunyah Fellowship program is to enable outstanding international scholars to make an extended visit to the University of Melbourne, contributing to the university's research, academic, intellectual, and cultural life. During his appointment, Jewell worked to launch a collaboration with several researchers, including Doherty Institute professor Thomas Gebhardt, a leading immunologist whose work has produced exciting new insights into the regulation of immune cell functions during infection and cancer.
Published June 23, 2022