Andorko Receives Future of Science Fund Scholarship at Keystone Symposia Vaccine Meeting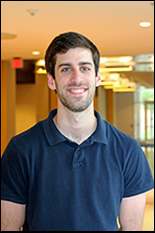 Fischell Department of Bioengineering (BioE) Ph.D. candidate Jim Andorko was named the recipient of the Future of Science Fund Scholarship at the Keystone Vaccine Meeting in Seattle this past October.
Along with his advisor, Assistant Professor Chris Jewell, and postdoctoral researcher Yu-Chieh Chiu, Jim traveled to the national conference, where he presented a student plenary short talk titled "Intrinsic Immunogenicity of Rapidly Degradable Polycations: Role of Physicochemical Properties." In addition to Andorko, Jewell co-chaired a session and Chiu presented a research poster at the event.
In his talk, Andorko discussed how recent studies reveal that ubiquitous materials used in vaccination, such as poly(lactic-co-glycolic acid) (PLGA) and polystyrene, are able to activate antigen presenting cells and inflammatory immune pathways, even in the absence of other immunogenic signals. But, a new class of rapidly degrading, pH responsive polymers called poly(beta-amino esters) (PBAEs) have been widely used in drug delivery – particularly, for delivery of DNA vaccines, Andorko said.
Compared with PLGA, which generally degrades over weeks or months, PBAEs degrade in a matter of days, allowing for fast release of cargo that could be beneficial for vaccine design. However, if and how these polymers and low molecular weight fragments released during degradation impact immune response or vaccination remains unclear, Andorko noted.
As such, Andorko is working with the Jewell Laboratory to investigate how various PBAEs alter the lymph node microenvironment and resulting systemic immune response.
Understanding the impact biomaterials like PBAEs have on the immune response could lead to informed design of future vaccine carriers that are able to exploit material properties to tune the immune system in particular ways. This could lead to creation of vaccine carriers that evoke specific immune responses specifically tuned to combat diseases such as cancer or autoimmune disorders.
Andorko was selected for the Future of Science scholarship by a committee that included three leading immunologists – Philippa Marrack (Howard Hughes Medical Institute), Robert Seder (National Institutes of Health Vaccine Research Center) and Steven Reed (Infectious Disease Research Institute).
"Speaking at the Keystone Vaccine Symposia in front of some of the most well-known immunologists in the nation was an eye-opening, fun experience," Andorko said. "Conference attendees were able to provide insight into my project that we had not yet thought about while also providing recommendations for future studies.
"One of my favorite aspects of the event was the talk, during which I presented right before my principal investigator, Professor Jewell's post-doc advisor, Dr. Darrell Irvine of Massachusetts Institute of Technology, and Dr. Steven Reed," he continued. "Another aspect I enjoyed was that the conference was a great place to talk to others and all of the conference attendees were open to sharing their research."
And, as icing on the cake, the honor provided Andorko with his first opportunity to visit the West Coast.
"Getting time to explore Seattle was great," he said. "Having never been to the West Coast before, it was an interesting experience to go to a large city that has such a different culture and feel from the East Coast cities near which I grew up."
Earlier this year, Andorko received an NIH T32 training position in Host Pathogen Interactions. Established to support predoctoral and postdoctoral research training in specified shortage areas, the training position offers payment of tuition and fees, a stipend and health insurance. Additionally, the NIH T32 provides up to $1,000 to be applied toward travel to conferences.
Published December 19, 2014