Jewell Named ACGT Research Grant Recipient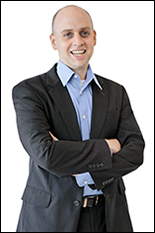 Fischell Department of Bioengineering Assistant Professor Christopher Jewell was named the recipient of a three-year, $250,000 grant from the Alliance for Cancer Gene Therapy (ACGT), the nation's only nonprofit dedicated exclusively to cell and gene therapies for cancer.
Jewell is one of just two recipients of ACGT's newest grants, which are intended to support researchers who will develop genetically-modified T cells and cancer vaccines with the potential to stop cancer in its tracks. He was recognized for his work harnessing bioengineering, immunology, and polymer design to create degradable vaccine "depots" in lymph nodes – specialized tissues that control responses against cancer, infection, and other diseases. Jewell's ACGT proposal leverages the gene therapy research Chris carried out as a graduate student in Prof. Dave Lynn's lab at the University of Wisconsin and the immunology and bioengineering approaches Dr. Jewell developed as a postdoctoral fellow in Darrell Irvine's lab at MIT.
One way tumors evade the immune system is by suppressing the function of T cells otherwise capable of destroying cancer cells. These T cells develop in lymph nodes and, as they become activated against tumors, the cells differentiate and proliferate at much slower rates. This decreased proliferation dramatically reduces the effectiveness of anti-tumor immune responses.
As such, Jewell and the members of his lab are using polymeric vaccine depots to control how T cells develop. The goal is to promote immune cell function that is specific for attacking tumors and long-lasting to protect against tumor regrowth. The vaccine –loaded in polymers that degrade at controlled rates - contains two active elements: DNA encoding tumor fragments to arm T cells against tumors, and immune signals to promote long-lasting T cells that maintain the ability to proliferate at extremely high rates when tumors are present. Jewell's efforts mark the first time this interdisciplinary approach is being explored. Jewell hopes the idea will result in an army of T cells that are specific for tumors but that maintain the ability to quickly proliferate, clearing existing tumors and preventing regrowth of new tumors.Jewell's proposal will also nucleate collaborations with clinicians at Children's National Hospital and with biomedical engineers at Johns' Hopkins University.
Jewell was recognized along with MeenakshiHegde, MD, of Texas Children's Cancer Center at Baylor College of Medicine in Houston, Texas.
"Drs. Hegde and Jewell are two outstanding scientists in the vanguard of treating and defeating cancer," said Barbara Netter, ACGT President. "Their work offers tremendous hope to those battling cancer, and also to their loved ones."
ACGT grants are awarded to promising researchers whose work dovetails with the foundation's mission: Leveraging cell and gene therapies to supplant the more harrowing cancer treatments like radiation, chemotherapy and surgery. ACGT's $25 million in grants have funded watershed research and trials such as those that activate patients' own immune systems to battle cancer cells. These trials have saved the lives of cancer patients otherwise believed to be beyond treatment, the foundation said.
In addition to receiving an ACGT research grant, Jewell was also named one of six recipients of the Damon Runyon-Rachleff Innovation Award, which recognizes early career scientists whose projects have the potential to significantly impact the prevention, diagnosis and treatment of cancer.
The prestigious award given by the Damon Runyon Cancer Research Foundation carries a two-year grant of $300,000 and an opportunity for up to two additional years of funding, for a total of $600,000.
For more information about the Jewell lab, visit jewell.umd.edu.
Published March 16, 2015