Jewell Named 2015 Damon Runyon-Rachleff Innovator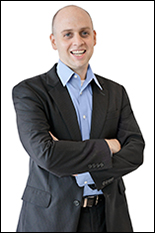 Fischell Department of Bioengineering Assistant Professor Chris Jewell was named one of six recipients of the Damon Runyon-Rachleff Innovation Award, which recognizes early career scientists whose projects have the potential to significantly impact the prevention, diagnosis and treatment of cancer.
The prestigious award given by the Damon Runyon Cancer Research Foundation carries a two-year grant of $300,000 and an opportunity for up to two additional years of funding, for a total of $600,000.
As a Damon Runyon scientist, Jewell joins an elite class of researchers, which, since the foundation's establishment in 1946, has grown to include 12 Nobel Laureates and visionaries behind some of the most important discoveries in cancer research.
Jewell was recognized for his work harnessing bioengineering, immunology, and polymer design to create degradable vaccine "depots" in lymph nodes – specialized tissues that control responses against cancer, infection, and other diseases.
One way tumors evade the immune system is by suppressing the function of T cells otherwise capable of destroying cancer cells. These T cells develop in lymph nodes and, as they become activated against tumors, the cells differentiate and proliferate at much slower rates. This decreased proliferation dramatically reduces the effectiveness of anti-tumor immune responses.
As such, Jewell and the members of his lab are using polymeric vaccine depots to control how T cells develop. The goal is to promote immune cell function that is specific for attacking tumors and long-lasting to protect against tumor regrowth. The vaccine itself contains two active elements loaded in degradable polymers: the antigen that stimulates the T cells to attack cancer cells, and immune signals – small molecules designed to promote long-lasting T cells that maintain the ability to proliferate at extremely high rates when tumors are present. Jewell's efforts mark the first time this interdisciplinary approach is being explored. Jewell hopes the idea will result in an army of T cells that are specific for tumors but that maintain the ability to quickly proliferate, clearing existing tumors and preventing regrowth of new tumors.
To accelerate breakthroughs, the Damon Runyon Cancer Research Foundation provides today's best young scientists with flexible funding to pursue innovative research. The foundation has gained worldwide prominence in cancer research by identifying outstanding researchers and physician-scientists. Each of its award programs is extremely competitive, with five to six innovation awards made each year throughout the country across all fields.
Damon Runyon-Rachleff Innovation awardees are selected through a highly competitive and rigorous process by a scientific committee comprised of leading cancer researchers. In the last round of selection, finalists present their ideas to a panel of the nation's top cancer scientists and physicians during an interview at the Damon Runyon foundation in New York.
More information about the Jewell Research Lab is available online.
Published January 22, 2015